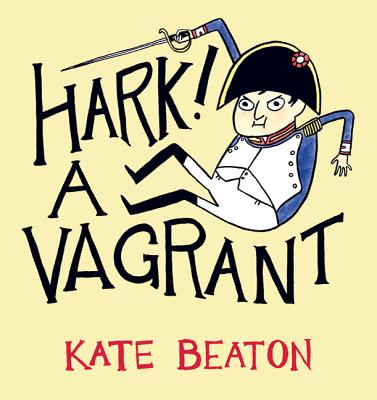 Hark! A Vagrant
Hardcover

* Individual store prices may vary.
Description
FEATURED ON MORE THAN TWENTY BEST-OF LISTS, INCLUDING TIME, AMAZON, E! AND PUBLISHERS WEEKLY!

Hark! A Vagrant is an uproarious romp through history and literature seen through the sharp, contemporary lens of New Yorker cartoonist and comics sensation Kate Beaton. No era or tome emerges unscathed as Beaton rightly skewers the Western world's revolutionaries, leaders, sycophants, and suffragists while equally honing her wit on the hapless heroes, heroines, and villains of the best-loved fiction.
She deftly points out what really happened when Brahms fell asleep listening to Liszt, that the world's first hipsters were obviously the Incroyables and the Merveilleuses from eighteenth-century France, that Susan B. Anthony is, of course, a "Samantha," and that the polite banality of Canadian culture never gets old. Hark! A Vagrant features sexy Batman, the true stories behind classic Nancy Drew covers, and Queen Elizabeth doing the albatross. As the 500,000 unique monthly visitors to harkavagrant.com already know, no one turns the ironic absurdities of history and literature into comedic fodder as hilariously as Beaton.
Praise For Hark! A Vagrant…
"[Beaton's comics] are witty reinventions of literary and historical figures navigating modern times . . . A high-minded version of The Far Side that is at once of-the-moment and timeless." —DEBORAH VANKIN, The Los Angeles Times on Kate Beaton

"Simply put, this is the most well-drawn, funniest comic that I've read in a while." —ADRIENNE SO, Wired on Kate Beaton

"[Beaton's] neat linework and terrific grasp of simple caricature and facial expression sells a lot of the best strips, including Sasaki Kojiro meeting an undignified end, Jane Austen and Nikola Tesla being pestered by their fans, and Lord Byron muttering "Bitches, man" to a grieving Percy Bysshe Shelley. A-" —The Onion, The A.V. Club on Kate Beaton
Drawn and Quarterly, 9781770460607, 160pp.
Publication Date: September 27, 2011
About the Author
Kate Beaton was born and raised in Cape Breton, Nova Scotia, Canada. After graduating from Mount Allison University with a degree in anthropology, she moved to Alberta in search of work that would allow her to pay down her student loans. During the years she spent out West, Beaton began creating webcomics under the name Hark! A Vagrant!, quickly drawing a substantial following around the world.

The collections of her landmark strip Hark! A Vagrant and Step Aside Pops each spent several months on the New York Times graphic novel bestseller list, as well as appearing on best of the year lists from Time, The Washington Post, Vulture, NPR Books, and winning the Eisner, Ignatz, Harvey, and Doug Wright Awards. She has also published the picture books King Baby and The Princess and the Pony.

Beaton lives in Cape Breton with her family.