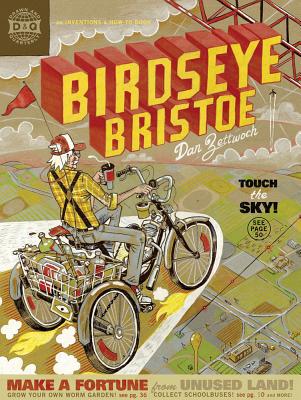 Birdseye Bristoe
Hardcover

* Individual store prices may vary.
Description
A not-so-classic yarn about a mysterious stranger in a small midwestern town
It's a story line we know all too well: "A mysterious stranger comes to town." Only the town is not really a town and the stranger is a gigantic cell-phone tower. The town is Birdseye Bristoe-a portmanteau name created from an interstate sign that points to two real towns-and it has only one real permanent resident, an old-timer known as Uncle. A confirmed bachelor and World War II veteran, he owns most of the real estate in town. His teenaged great-niece and -nephew visit occasionally, though the town doesn't have much to offer apart from an adult superstore, a gas station, and a tackle shop.
Uncle reluctantly agrees to lease his land to a conglomerate of telecommunications carriers, and sets the somewhat random condition that the tower be built with a huge crossbar set horizontally into the mast, making it also the world's largest cross. Birdseye Bristoe begins with the destruction of the cell tower and works backward to unravel the story of its fall.
This is the first full-length graphic novel from the acclaimed artist Dan Zettwoch, who is well known for his comic books and anthology work (in Kramers Ergot, Beasts II, and the Drawn & Quarterly Showcase). Zettwoch has a sharp eye for the iconography of small-town USA, and his stylized prose reveals the intermingling of a keen wit and a strong affection for his characters. Birdseye Bristoe brims with larger-than-life personalities, hilarious anecdotes, references to midwestern/mid-southern pop culture, and diagrams of the cell-tower/cross construction process.
Praise For Birdseye Bristoe…
"The biggest surprise of the last few years in mini-comics circles was Dan Zettwoch." —Tom Spurgeon, Comics Reporter
Drawn and Quarterly, 9781770460669, 64pp.
Publication Date: June 19, 2012
About the Author
Dan Zettwoch makes slice-of-life comics, goofball illustrations, how-to diagrams and folksy art in his house in St. Louis. His books include BIRDSEYE BRISTOE (Drawn & Quarterly), AMAZING FACTS & BEYOND (Uncivilized Books), and lots of self-published mini-comics. At the request of his two-year old son Archie he just finished a massive neon green and silver screenprint showing the mechanical and historical underpinnings of The Monster Truck. He always has ink all over himself. Science Comics: Cars is his first book with First Second.
or
Not Currently Available for Direct Purchase