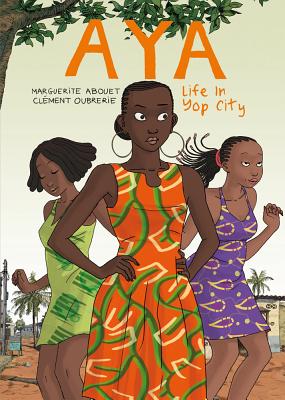 Aya
Life in Yop City
Paperback

* Individual store prices may vary.
Description
"Aya is an irresistible comedy, a couple of love stories and a tale for becoming African. It's essential reading." -Joann Sfar, cartoonist of The Rabbi's Cat

Ivory Coast, 1978. It's a golden time, and the nation, too-an oasis of affluence and stability in West Africa-seems fueled by something wondrous. Aya is loosely based upon Marguerite Abouet's youth in Yop City. It is the story of the studious and clear-sighted nineteen-year-old Aya, her easygoing friends Adjoua and Bintou, and their meddling relatives and neighbors. It's a wryly funny, breezy account of the simple pleasures and private troubles of everyday life in Yop City.

Clément Oubrerie's warm colors and energetic, playful line connect expressively with Marguerite Abouet's vibrant writing. This reworked edition offers readers the chance to immerse themselves in Abouet's Yop City, bringing together the first three volumes of the series in Book One. Drawn & Quarterly will release volumes four through six of the original French series (as yet unpublished in English) in Book Two. Aya is the winner of the Best First Album award at the Angoulême International Comics Festival, the Children's Africana Book Award, and the Glyph Award; was nominated for the Quill Award, the YALSA's Great Graphic Novels list, and the Eisner Award; and was included on "best of" lists from The Washington Post, Booklist, Publishers Weekly, and School Library Journal.
Praise For Aya: Life in Yop City…
"Oubrerie's style animates both the broadly funny and painfully grave moments in Abouet's rhythmic slice-of-life storytelling." —The Washington Post

"Marguerite Abouet's comic tells of a lost age, a time in the late 1970s when the Ivory Coast was basking in the glow of an economic boom, when disco seeped from the open air clubs in Abidjan and teenage girls such as Aya, Adjoua and Bintou were able to enjoy one last flirtatious summer before adulthood . . . Abouet's is a gentle, nostalgic account." —Craig Taylor, The Guardian
Drawn and Quarterly, 9781770460829, 384pp.
Publication Date: September 4, 2012
About the Author
The writer Marguerite Abouet was born in Abidjan in 1971 and now lives outside Paris.

The artist Clément Oubrerie was born in Paris in 1966 and has illustrated more than forty children's books.