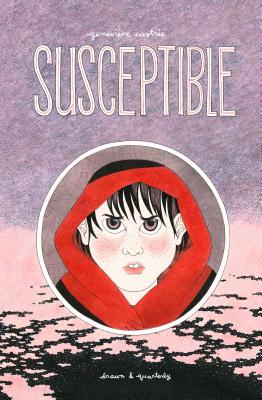 Susceptible (Hardcover)
Drawn & Quarterly, 9781770460881, 80pp.
Publication Date: February 19, 2013
Description
..".an aching clarity is] evident in Castree's] sombre grey tones and her dexterous, serpentine lines."-Globe & Mail Best 100 Books of 2013
"With mesmerizing honesty Castree resurrects the obscenely disorienting turning points of a childhood, the ones that haunt a person for a lifetime. After reading the last page I closed the book and wept a little bit about its simple, perfect ending."
-MIRANDA JULY, author of It Chooses You and No One Belongs Here More Than You
Goglu is a daydreamer with a young working mother, a disengaged stepfather, and a father who lives five thousand miles away. Drawing, punk rock, and the promise of true independence guide Goglu to adulthood while her home's daily chaos inevitably shapes her identity. Susceptible is a devastating graphic novel debut by Genevieve Castree; it's a testament to the heartbreaking loss of innocence when a child is forced to be the adult amongst grownups..
About the Author
Genevieve Castree was born in Quebec in 1981. Sometimes interdisciplinary, she is mostly known for her work as an illustrator and cartoonist. Impatient and lazy, Genevieve never officially studied "art." She has made a few books and has had a few exhibitions in places such as Canada, the United States, Europe, Australia, and Japan. Genevieve Castree lives and works in the Pacific Northwest. She also has a music project called O PAON.
Praise For Susceptible…
"[Susceptible]'s pervasive melancholy is still lingering with me, a reminder of why we really read: to feel things besides our own emotions." —Paris Review

"[Susceptible is] a devastating coming-of-age graphic memoir." —CBC

"Castrée's black-and-white, Scarryesque illustrations accompany tiny, precise cursive lettering that gives the whole work a whispered, confessional quality, as if each word were an embarrassing secret. At times, Goglu's story is overwhelmingly, heartbreakingly sad, but Castrée leaves a glimmer of hope: a redemptive future shaped by art, independence, and unconditional love." —Booklist
Advertisement