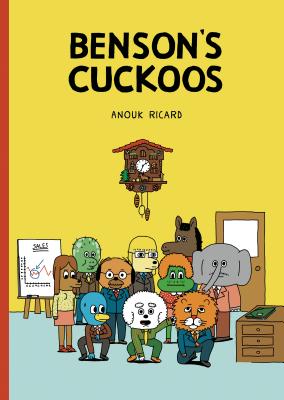 Benson's Cuckoos (Paperback)
Drawn and Quarterly, 9781770461383, 96pp.
Publication Date: June 10, 2014
* Individual store prices may vary.
Description
Workplace stresses may be killer in this off-the-rails office satire

Richard thinks he's in luck when he snags a job at the cuckoo-clock factory, but things start to go wrong right off the bat. First of all there's his boss, who doesn't seem to have the strongest grip on reality and has an odd penchant for silly hats. Then there are his coworkers, who are alternately evasive and idiotic when asked about anything pertaining to actually getting work done. Finally there's George, the employee Richard's replacing, who supposedly quit but whose family has just appeared on national TV pleading for his safe return. It's all adding up to a very strange workplace, and when the company goes on a retreat, everything spools quickly out of control.
From the author of Anna and Froga comes a wry, offbeat whodunnit that centers on office life. Anouk Ricard's subtle, sardonic humor undermines the characters' desperate attempts to be taken seriously, as they bungle kidnappings, misunderstand social cues, and let petty disagreements become feuds. Ricard's dim-witted characters aspire to deviousness but miss their mark, remaining firmly in the domain of slapstick. With cleverly observed dialogue, charming artwork, and brilliantly over-the-top plotting, Benson's Cuckoos will delight the adult fans of Ricard's comics for kids.
About the Author
Anouk Ricard is an author, artist, and stop motion animator. She was born in the south of France. She began the Anna and Froga series after moving to Strasbourg in 2004. Initially published in Capsule Comique magazine, the collections of strips were reprinted by Sarbacane to widespread acclaim. Her graphic novel for adults, Benson's Cuckoos, was nominated as selection officielle of the Festival de BD d'Angoulême in 2012.
Praise For Benson's Cuckoos…
"In Anouk Ricard's gently bonkers satire, an everyman wage-earner endures the indignities foisted upon him by his zany boss and downtrodden co-workers. [Ricard] just barely cushion[s] her pointed jabs at the insular, dysfunctional families we construct at work." —The Globe & Mail
"Combine absurdity with Ricard's simplified, charming funny animal art style and you've got a very funny comic. Ricard has a healthy appreciation for the ridiculous that is as infectious here as it is in [her] Anna books." —Comic Book Resources
"[Benson's Cuckoos] is like a fever dream of workplace anxiety drawn by Richard Scarry for those worn down by the business grind… Those who've worked office jobs with self-important, rude, or clueless coworkers (and who hasn't?) will appreciate the satire." —Publishers Weekly
"Surreal workplace comedy as performed by anthropomorphic animals." —Tim O'Neil, AV Club
or
Not Currently Available for Direct Purchase