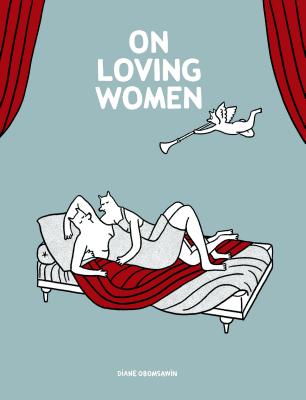 On Loving Women (Paperback)
Drawn and Quarterly, 9781770461406, 88pp.
Publication Date: February 18, 2014
* Individual store prices may vary.
Description
"On Loving Women is in turns wistful, sexy, goofy, bittersweet, frank, and adorable. Diane Obomsawin's deceptively simple lifework and straightforward writing style capture the breathless sweetness of holding another girl's hand for the first time, and the happy, lusty intimacy of a virginity-ending, drunken threesome. Delightful."—Ellen Forney, author of Marbles: Mania, Depression, Michelangelo, and Me
Intimate vignettes of women coming out

On Loving Women is a new collection of stories about coming out, first love, and sexual identity by the animator Diane Obomsawin. With this work, Obomsawin brings her gaze to bear on subjects closer to home—her friends' and lovers' personal accounts of realizing they're gay or first finding love with another woman. Each story is a master class in reaching the emotional truth of a situation with the simplest means possible. Her stripped-down pages use the bare minimum of linework to expressively reveal heartbreak, joy, irritation, and fear.
On Loving Women focuses primarily on adolescence—crushes on high school teachers, awkwardness on first dates—but also addresses much deeper-seated difficulties of being out: fears of rejection and of not being who others want one to be. Within these pages, Obomsawin has forged a poignant, powerful narrative that speaks to the difficulties of coming out and the joys of being loved.
Her first English-language work, Kaspar—a retelling of the life of Kaspar Hauser, the mysterious German youth who was raised in isolation and murdered just a few years after emerging from his imprisonment—was critically lauded for its simple but expressive storytelling, and for the way it portrayed traumatic material compassionately but without self-indulgenc
About the Author
Born in Montreal in 1959, Diane Obomsawin spent the first twenty years of her life in France. After studying graphic design, she returned to Canada in 1983 and turned her attention to painting, comics, and animation. Here and There, her autobiographical film, garnered numerous prestigious distinctions. She has published a number of comics in French and one previous book with Drawn & Quarterly, Kaspar (2009).
Praise For On Loving Women…
"An unshakeable cool suffuses Obomsawin's every line, denying drama. She situates each story in the same hushed, largely vacant space, one that's open to the quietest emotions. Like adolescence itself, this land is both mysterious and full of endless possibilities. She doesn't push toward the highs and lows, but leaves her reader to find them. Or, rather, she creates a world where they can be found." —Etelka Lehoczky, NPR
"On Loving Women… manages to convey complex emotional truths and heartwarming (or heartbreaking) situations. Love. Rejection. Sex. Longing. It's all there." —Malaika Aleba, Autostraddle
"On Loving Women… perfectly captures coming out and first love… Each individual chapter feels like peeking into someone's personal diary, each story more entrancing than the last." —Sarah Karlan, Buzzfeed
"On Loving Women is a real treat for readers of every sexual orientation and it will undoubtedly become a touchstone of queer comics and Canadian graphic non-fiction." —Candida Rifkind, Winnipeg Free Press