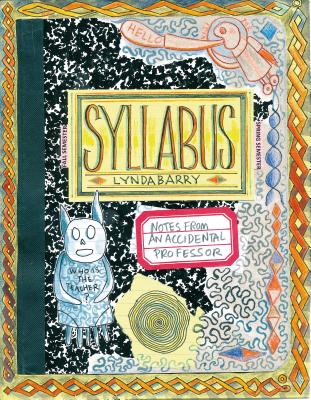 Syllabus
Notes from an Accidental Professor
Paperback

* Individual store prices may vary.
Description
Writing exercises and creativity advice from Barry's pioneering, life-changing workshop

The award-winning author Lynda Barry is the creative force behind the genre-defying and bestselling work What It Is. She believes that anyone can be a writer and has set out to prove it. For the past decade, Barry has run a highly popular writing workshop for nonwriters called Writing the Unthinkable, which was featured in The New York Times Magazine. Syllabus: Notes from an Accidental Professor is the first book to make her innovative lesson plans and writing exercises available to the public for home or classroom use. Barry teaches a method of writing that focuses on the relationship between the hand, the brain, and spontaneous images, both written and visual. It has been embraced by people across North America—prison inmates, postal workers, university students, high-school teachers, and hairdressers—for opening pathways to creativity.

Syllabus takes the course plan for Barry's workshop and runs wild with it in her densely detailed signature style. Collaged texts, ballpoint-pen doodles, and watercolor washes adorn Syllabus's yellow lined pages, which offer advice on finding a creative voice and using memories to inspire the writing process. Throughout it all, Barry's voice (as an author and as a teacher-mentor) rings clear, inspiring, and honest.
Praise For Syllabus: Notes from an Accidental Professor…
"In recent years, Lynda Barry – half cartoonist, half guru, and entirely irrepressible – has created her own genre, handcrafting inspirational guidebooks about how and why to be creative… Scrawled out and doodled all over the page, collaged together with snippets of schoolwork, snatches of poetry, and drawings of weird-looking monsters, Barry's notes [in Syllabus] double as dispatches from a fertile unconscious, and testify once more to the unfathomable depths of human invention." —Globe & Mail

"Lynda Barry has spent the last few years blazing new trails in nonfiction cartooning with a series of books dedicated to illuminating the mysteries of the creative process . . . Once you pick [Syllabus] up, it's not easy to put it back down again." —AV Club Best Comics of 2014

"[Syllabus is] a must-read for Barry fans and deep thinkers." —London Free Press

"[In Syllabus, Lynda Barry] continues her investigation of what an image is. This book is charming and readable and serves as an excellent guide for those seeking to break out of whatever writing and drawing styles they have been stuck in, allowing them to reopen their brains to the possibility of new creativity. Readers can pore over the exceptionally gorgeous graphic mixture of collage, inking, and watercolor for hours." —Publishers Weekly (starred review)
Drawn and Quarterly, 9781770461611, 200pp.
Publication Date: October 21, 2014
About the Author
Lynda Barry has worked as a painter, cartoonist, writer, illustrator, playwright, editor, commentator, and teacher and found that they are very much alike. She lives in Wisconsin, where she is a professor of Interdisciplinary Creativity at the University of Wisconsin-Madison.

Barry is the inimitable creator behind the seminal comic strip that was syndicated across North America in alternative weeklies for two decades, Ernie Pook's Comeek, featuring the incomparable Marlys and Freddy. She is the author of The Freddie Stories, One! Hundred! Demons!, The! Greatest! of! Marlys!, Cruddy: An Illustrated Novel, Naked Ladies! Naked Ladies! Naked Ladies!, and The Good Times are Killing Me, which was adapted as an off-Broadway play and won the Washington State Governor's Award.

She has written three bestselling and acclaimed creative how-to graphic novels for Drawn & Quarterly, What It Is which won the Eisner Award for Best Reality Based Graphic Novel and R.R. Donnelly Award for highest literary achievement by a Wisconsin author; Picture This; and Syllabus: Notes From an Accidental Professor, and In 2019 she received a MacArthur Genius Grant. Barry was born in Wisconsin in 1956.