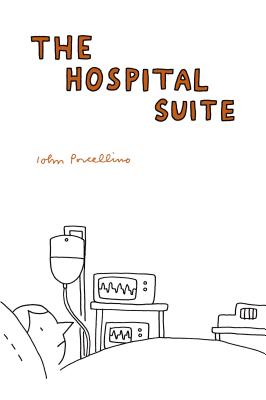 The Hospital Suite
Paperback

* Individual store prices may vary.
Description
Poetic musings on illness and the art of getting by from a mini-comics master

The Hospital Suite is a landmark work by the celebrated cartoonist and small-press legend John Porcellino—an autobiographical collection detailing his struggles with illness in the 1990s and early 2000s.
In 1997, John began to have severe stomach pain. He soon found out he needed emergency surgery to remove a benign tumor from his small intestine. In the wake of the surgery, he had numerous health complications that led to a flare-up of his preexisting tendencies toward anxiety and obsessive-compulsive disorder. The Hospital Suite is Porcellino's response to these experiences—simply told stories drawn in the honest, heart-wrenching style of his much-loved King-Cat mini-comics. His gift for spare yet eloquent candor makes The Hospital Suite an intimate portrayal of one person's experiences that is also intensely relatable.
Porcellino's work is lauded for its universality and quiet, clear-eyed contemplation of everyday life. The Hospital Suite is a testimony to this subtle strength, making his struggles with the medical system and its consequences for his mental health accessible and engaging.
Praise For The Hospital Suite…
"The Hospital Suite by John Porcellino [is] a memoir . . . of undiagnosed illnesses . . . It's really fascinating and really self-revelatory and very clear-eyed." —NPR Pop Culture Happy Hour

"Quiet [and] haunting . . . The Hospital Suite is a reminder that the seemingly basic chemistry of words and picture can uniquely, compellingly address the deepest fears that face us--up to and including the ultimate one." —Entertainment Weekly

"The rawness of Porcellino's work, its unfiltered directness, is the essence of its charm." —Los Angeles Times

"For an artist who so often picks out the fleeting poetic instant, Porcellino is equally and affectingly adept at tracing the prolonged, prosaic nature of suffering--and especially the tortuous reasoning of his obsessive-compulsive disorder." —Globe & Mail

"Beautifully crafted . . . [The Hospital Suite is] a rough, occasionally harrowing journey, but Porcellino's dogged determination to keep a grip on his dignity in the face of the most humiliating physical and emotional debilitation is ultimately the very best kind of life affirming." —AV Club Best Comics of 2014
Drawn and Quarterly, 9781770461642, 250pp.
Publication Date: September 23, 2014
About the Author
John Porcellino was born in Chicago, Illinois, in 1968, and began drawing and writing at an early age, compiling his work into handmade booklets. His acclaimed self-published zine, King-Cat Comics and Stories, begun in 1989, has found a devoted worldwide audience, and is one of the most influential comics series of the past twenty-five years.
or
Not Currently Available for Direct Purchase