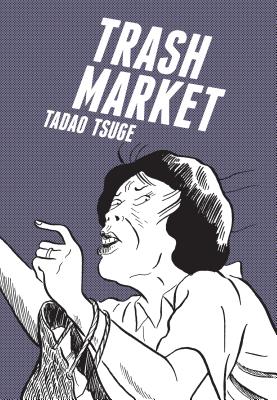 Trash Market
Paperback

* Individual store prices may vary.
Description
Dark and funny comics from a Garo magazine manga-ka

Tadao Tsuge was one of the key contributors to the legendary avant-garde Japanese comics magazine Garo during its heyday in the late 1960s and early 1970s, renowned for his unpretentious journalistic storytelling and clear, eloquent cartooning. Trash Market brings together six of Tsuge's compelling, character-driven stories about life in post–World War II Japan.
"Trash Market" and "Gently Goes the Night" touch on key topics for Tsuge: the charming lowlifes of the Tokyo slums and the veterans who found themselves unable to forget the war. "Song of Showa" is an autobiographical piece about growing up in a Tokyo slum during the occupation with an abusive grandfather and an ailing father, and finding brightness in the joyful people of the neighborhood. Trash Market blurs the lines between fiction and reportage; it's a moving testament to the grittiness of life in Tokyo during the postwar years.
Trash Market features an essay from the collection's editor and translator, Ryan Holmberg, who is a specialist in Japanese art history. He explores Tsuge's early career as a cartoonist and the formative years the artist spent working in Tokyo's notorious for-profit blood banks.
Drawn and Quarterly, 9781770461741, 272pp.
Publication Date: May 12, 2015
About the Author
Tadao Tsuge (born in 1941) has been drawing comics since the late 1950s. In the 1960s and 1970s, he was one of the central contributors to the underground comics magazine Garo, and the magazines Yako and Gento. In addition to cartooning, Tsuge is an avid fisherman and has written essays on the subject. He has held full-time blue-collar jobs for most of his artistic career, most significantly on the cleaning staff at one of Tokyo's for-profit blood banks, which figures prominently in a number of his works. In 1995, cult-film director Teru Ishii made a movie based on Tsuge's comics. Tsuge lives in Saitama Prefecture, near Tokyo.
or
Not Currently Available for Direct Purchase