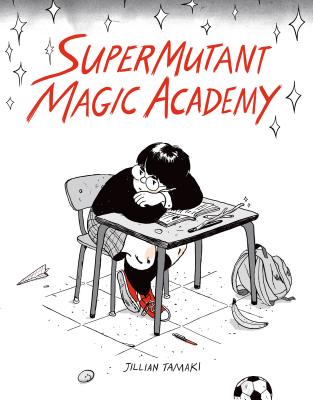 SuperMutant Magic Academy
Paperback

* Individual store prices may vary.
Other Editions of This Title:
Prebound (4/28/2015)
Description
Unrequited love, underage drinking, and teen angst rule at a high school for mutants and witches

The New York Times and New Yorker illustrator Jillian Tamaki is best known for co-creating the award-winning young adult graphic novels Skim and This One Summer—moody and atmospheric bestsellers. SuperMutant Magic Academy, which she has been serializing online for the past four years, paints a teenaged world filled with just as much ennui and uncertainty, but also with a sharp dose of humor and irreverence. Tamaki deftly plays superhero and high-school Hollywood tropes against what adolescence is really like: The SuperMutant Magic Academy is a prep school for mutants and witches, but their paranormal abilities take a backseat to everyday teen concerns.
Science experiments go awry, bake sales are upstaged, and the new kid at school is a cat who will determine the course of human destiny. In one strip, lizard-headed Trixie frets about her nonexistent modeling career; in another, the immortal Everlasting Boy tries to escape this mortal coil to no avail. Throughout it all, closeted Marsha obsesses about her unrequited crush, the cat-eared Wendy. Whether the magic is mundane or miraculous, Tamaki's jokes are precise and devastating.
SuperMutant Magic Academy has won two Ignatz Awards. This volume combines the most popular content from the webcomic with a selection of all-new, never-before-seen strips that conclude Tamaki's account of life at the academy.
Praise For SuperMutant Magic Academy…
"Tamaki's sense of comedy and pacing owes a lot to Charles Schulz's "Peanuts," although her subject matter is decidedly less innocent. And she delights in breaking her own rules: Her artwork is black-and-white except when she throws in impish splashes of color, drawn with broad, rough brush strokes except when it's composed of felt-tip scribbles or shimmering digital gray." —New York Times

"SuperMutant Magic Academy... exudes an irresistible wit." —The Guardian

"This collection is a great read for comic fans and genre newbies alike." —Bust Magazine

"[SuperMutant Magic Academy] is smart, thoughtful, and too hilarious to gobble down in just one sitting." —Bitch Magazine

"When it comes down to it, this is one of the best books... of any kind to come out in a long time." —Autostraddle

"The humor [in SuperMutant Magic Academy] is sometimes slapstick, but more often it offers ultra-dry observations on modern disengagement. Tamaki is playful and loose with her art, unafraid to be experimental as she draws us into a world where true feelings are the greatest danger." —Publishers Weekly Starred Review

"Though Tamaki's black and white panels shift from detailed and realistic to dreamy and atmospheric and back again, she consistently and expertly captures subtle emotion and subtext with only a few strokes of the pen. [SuperMutant Magic Academy is] simultaneously heartbreaking and hilarious." —Booklist Starred Review

"SuperMutant Magic Academy will reassure teenagers that high school is a weird place, even for humans, and will remind adults that it is an experience we never really outgrow." —Winnipeg Free Press
Drawn and Quarterly, 9781770461987, 224pp.
Publication Date: April 28, 2015
About the Author
Jillian Tamaki is an illustrator and comics artist. She is the co-creator of Skim and This One Summer, and the author of SuperMutant Magic Academy and Boundless (2017). She has taught comics and illustration in New York City at SVA and The New School. She lives in Toronto.