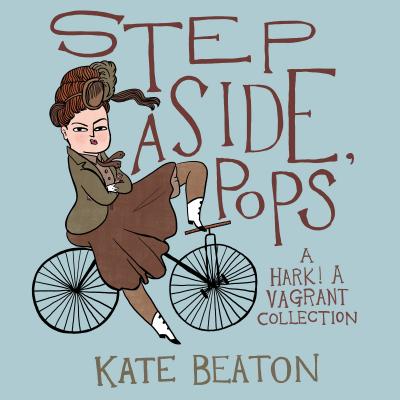 Step Aside, Pops
A Hark! A Vagrant Collection
Hardcover

* Individual store prices may vary.
Description
Six months on the New York Times bestseller list! Featured on 25 best of the year lists!

"Somewhere in my heart is a folder titled Things I Did Not Know I Wanted and it is full of Kate Beaton comics… Sharp, charming, and weird, Step Aside, Pops is a fine sampling of Beaton's work, and I can't recommend it enough." —NPR

"Nobody's ever gotten so much comedy out of omitting punctuation." —New York Times

Ida B. Wells, the Black Prince, and Benito Juárez burst off the pages of Step Aside, Pops: A Hark! A Vagrant Collection, armed with modern-sounding quips and amusingly on-point repartee. Kate Beaton's second D+Q book brings her hysterically funny gaze to bear on these and even more historical, literary, and contemporary figures. Irreverently funny and carefully researched, no target is safe from Beaton's incisive wit in these satirical strips.
Beaton began her infectiously popular web comic, Hark! A Vagrant, in 2007 and it quickly attracted the adoration of hundreds of thousands of fans. It was an unequivocal hit with critics and fans alike, topping best-of-the-year lists from E!, Amazon, Time, and more. Now Beaton returns with a refined pen, ready to make jokes at the expense of hunks, army generals, scientists, and Canadians in equal measure. With a few carefully placed lines, she captures the over-the-top evil of the straw feminists in the closet, the disgruntled dismay of Heathcliff, and Wonder Woman's all-conquering ennui. Step Aside, Pops is sure to be the comedic hit of the year: sharp, insightful, and very funny.
Praise For Step Aside, Pops: A Hark! A Vagrant Collection…
"...Hilarious and hyper-literate." —Entertainment Weekly

"Beaton's work is in a class all its own." —Bust

"Step Aside, Pops, reminds us why it's been a blessing that Beaton has enjoyed the free-range evolution of an auteur." —Washington Post

"Step Aside, Pops: a new Hark! A Vagrant collection that delights and dazzles." —Boing Boing

"The range and singular wit of her brilliant historical, literary and pop-culture parodies is simply impossible to capture in just a few words."—The Guardian

"From Julius Caesar to The Secret Garden and from the late Romantics to Kokoro, Beaton knocks it out of the park, having a go at anything and everything with her razor-sharp wit."-Publishers Weekly Starred Review
Drawn and Quarterly, 9781770462083, 160pp.
Publication Date: September 15, 2015
About the Author
KATE BEATON grew up in Nova Scotia, Canada. She earned a bachelor's degree in history and anthropology at Mount Allison University. She presently resides in Brooklyn, New York.