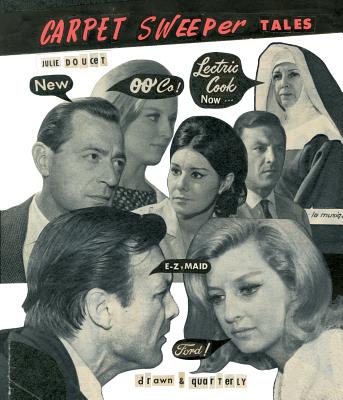 Carpet Sweeper Tales (Paperback)
Drawn and Quarterly, 9781770462397, 184pp.
Publication Date: March 29, 2016
* Individual store prices may vary.
Description
The iconic author of My New York Diary returns with a collection of dreamy, collaged photo comics
Julie Doucet is an artist who has mastered many voices and styles, from her landmark and medium-defining early work in comics with her comic book series Dirty Plotte and the classic graphic novel My New York Diary, to her linocut and collage work in Lady Pep and Long Time Relationship. Most recently, Doucet has focused primarily on collage, crafting impeccable zines, prints, and other ephemera. In Carpet Sweeper Tales, her first new book in almost a decade, we see this multifaceted artist combine her many talents into one genre-defying masterwork.
Though Doucet stopped drawing comics more than ten years ago, here she revisits the art form, pulling images from 1970s Italian fumetti or photonovels to create her own collage comics. Using vintage women's and home decorating magazines, Doucet collages a unique dialogue of love and travel between characters sitting in classic cars, driving through cities and pristine countryside. This book is the first to combine Doucet's love of collage with her gift at comics storytelling. The result is a collection of lighthearted stories that play upon the disconnects between 1970s imagery and our modern world. Lost in translation, the dialogue is stilted, the characters alien, the mood always playful. Carpet Sweeper Tales is a milestone in a career filled with milestone achievements.
About the Author
Julie Doucet was born near Montreal in 1965 and is best known for her frank, funny, and sometimes shocking comic book series Dirty Plotte, which changed the landscape of alternative cartooning. In the 1990s, Doucet moved between New York, Seattle, Berlin, and Montreal, publishing the graphic novels My New York Diary, Lift Your Leg, My Fish is Dead!, My Most Secret Desire, and The Madame Paul Affair in this time. In 2000, she quit comics to concentrate on other art forms; from these experiments emerged the collection of engravings and prints Long Time Relationship, and her one-year visual journal, 365 Days. Her post-comics artwork includes silkscreened artist's books, text-based collages, and animation films.
Praise For Carpet Sweeper Tales…
"With Carpet Sweeper Tales, [Doucet] has reordered the pages from a bunch of Italian photo comics...and inserted speech bubbles made of text from 1950s back issues of Better Homes and Gardens and Good Housekeeping, among others. The effect is something like if one of the English artist Richard Hamilton's pop art collages was made into a comic at the direction of Gertrude Stein."—The Guardian
"Carpet Sweeper Tales is one sharp & culturally incisive box of yocks, liberally mixed with nonsense, and god forbid you should attempt to read it while you're stoned – because then? … You might laugh yourself into a seizure, citizen: It's that kind of funny."—The Austin Chronicle
"Doucet has already made her statement ... communication in these pages is not impossible, but from a distance it seems abstract."—The Comics Journal
"Carpet Sweeper Tales is comic-like, but rather than being made through lithographic prints or drawings, it is collaged from clippings from 1970s Italian photo novels."—Rachel Davies, Rookie
"This is an offbeat and startling new collection by a major voice in feminist and underground comics...The playful combination of visual, verbal, and even aural elements (if you read the book aloud as suggested) that make up these avant-garde collage romances display Doucet's fine eye and ear for storytelling outside of traditional pencil-and-ink comics."—Publishers Weekly
"The whimsically titled pieces in Carpet Sweeper Tales offer an intriguing form of abstract storytelling... the abstract nature of the work leads the reader to seek and imagine multiple layers of meaning in the strange sounds and thoughtful visual juxtapositions."—Hans Rollman, PopMatters
"Cutting up those vintage magazines, [Doucet] repurposes them into absurdist scenes of men and women speaking in stilted advertising slogans and typographical nonsense. It's like revisiting how memes must have been made before there were ever GIFs and Tumblr."—Mental Floss
"Carpet Sweeper Tales is what a graphic novel might have looked like if the Dadaists had gotten a hold of it."—Laia Garcia, Lenny Letter
"Short stories composed from photonovels and paired with exquisitely cryptic cutouts of collaged letters and words...[Carpet Sweeper Tales] gives the impression of an artist searching for delight in unexpected places."—LA Review of Books
"[Doucet] repurposes the commoditized drama and enthusiasm of old soap operas and ads to haunt and surprise anew."—BOMB Magazine
"Doucet's first book in a decade is a collection of glamorous and nostalgic photo comics. She applies the form's traditional tropes—campy word bubbles, strips and splats—to images culled from 1970s Italian comics, vintage catalogues and housekeeping magazines."—Toronto Life
or
Not Currently Available for Direct Purchase