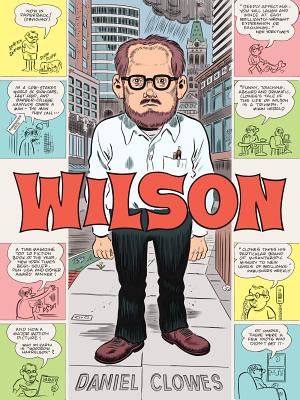 Wilson (Paperback)
Drawn and Quarterly, 9781770462441, 80pp.
Publication Date: February 7, 2017
Other Editions of This Title:
Hardcover (4/27/2010)
* Individual store prices may vary.
Description
Now a feature film with Woody Harrelson and Laura Dern

A new paperback edition of the modern classic timed to the release of the Alexander Payne–produced film version.
Meet Wilson, an opinionated middle-aged loner who loves his dog and quite possibly no one else. In an ongoing quest to find human connection, he badgers friend and stranger alike into a series of one-sided conversations, punctuating his own lofty discursions with a brutally honest, self-negating sense of humor. After his father dies, Wilson, now irrevocably alone, sets out to find his ex-wife with the hope of rekindling their long-dead relationship, and discovers he has a teenage daughter, born after the marriage ended and given up for adoption. Wilson eventually forces all three to reconnect as a family--a doomed mission that will surely, inevitably backfire.
Daniel Clowes, one of the leading cartoonists of our time creates a thoroughly engaging, complex, and fascinating portrait of the modern egoist--outspoken and oblivious to the world around him. Working in a single-page gag format and drawing in a spectrum of styles, the cartoonist of Ghost World, Ice Haven, and The Death-Ray gives us Wilson, his funniest and most deeply affecting novel to date.
About the Author
Daniel Clowes is the acclaimed cartoonist of the seminal comic book series Eightball and the graphic novels Ghost World, David Boring, Ice Haven, Wilson, Mr. Wonderful, and The Death-Ray. He is the subject of the monograph The Art of Daniel Clowes: Modern Cartoonist, published in conjunction with a major retrospective exhibit. He is the Oscar-nominated screenwriter of Ghost World, Art School Confidential, and Wilson.
Clowes is the recipient of numerous awards including the PEN Award for literature, an Eisner, a Harvey, and an Ignatz, and a frequent cover artist for The New Yorker. He is married and lives in Oakland, CA.