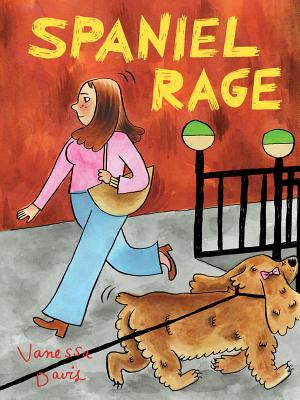 Spaniel Rage
Paperback

* Individual store prices may vary.
Description
"I love [Davis's] free-form drawing . . . She just has a funny, truthful voice." —Audrey Niffenegger
Vanessa Davis's autobiography, more observational than confessional, delighted readers ten years ago when she first began telling stories about her life in New York as a young single Jewish woman. Spaniel Rage is filled with frank and immediate pencil-drawn accounts of dating woes, misunderstandings between her and her mother, and conversations with friends.
Her keen observation of careless words spoken casually is refreshingly honest, yet never condemning. Unabashedly, Davis offers up gently self-deprecating anecdotes about her anxieties and wry truths about the contradictions of life in the big city. These comics are sexy, funny, lonely, beautiful, spare, and very smart—the finest work from a natural storyteller.
"[Davis creates] structurally sound, stylistically individual images that also manage to seem totally casual and spur-of-the-moment. The cliché "she makes it look so easy" is acutely appropriate for Vanessa and her work."—Rookie
"The frank, personal specificity of [Spaniel Rage] keeps you gripped."—Vulture, 8 Comics You Need To Read
"...a warm, familiar voice … Spaniel Rage holds an amazing freshness 12 years after it was published. It certainly deserves Drawn & Quarterly's February reissue."—Paste
"[Spaniel Rage collects] snapshots of her life that feel both utterly familiar and totally weird … a pleasant delve into young life in the city."—Library Journal
"Often funny, often tinged with loss, Davis chronicles a life page by page [and] touches on the anxieties of the internet age."—The Comics Journal
"This work [has] the strange power of making me feel like Davis broke into my apartment and scribbled her life into my personal notebook, just for me."—Broken Pencil
"An honest, unflinching set of loose cartoons… at its core, the commonalities of the cartoons in Spaniel Rage reflect the quirks of daily life itself."—Bookriot, 5 Graphic Novels To Watch In For February
"If you dig slice-of-life graphic novels, then you'll want to pick up Spaniel Rage from Vanessa Davis … the graphic-novel equivalent of a Seinfeld episode about twentysomethings."—London Free Press
Praise For Spaniel Rage…
"These comics are a gift. Casual, but precise, Davis has an emotional and intellectual range that creeps up on you with a warmth and a sensibility to the page that feels revelatory. Spaniel Rage is a brave, deeply felt work."—Sammy Harkham, Kramers Ergot
"Loose, perfect cartooning. Vanessa Davis is one of the very best."—Michael DeForge, Big Kids, Ant Colony, and Lose
"Vanessa's comics feel like a phone call with your best, warm, funny friend. I've kept this book close at hand for the last decade, re-reading it over lunches, in baths, and curled up in bed at night."—Lisa Hanawalt, Bojack Horseman, Hot Dog Taste Test
"I spent my 20s reading and re-reading this book. I'm still looking for clues in its warm, perfect drawings and clear, quiet voice—a grateful ghost in the white spaces, standing by Vanessa's side."—Eleanor Davis, How To Be Happy
Drawn and Quarterly, 9781770462564, 120pp.
Publication Date: February 21, 2017
About the Author
Vanessa Davis was born in West Palm Beach, Florida, and lives in Santa Rosa, California. She is the author of Spaniel Rage. Her comics have appeared in Vice, The New York Times, and Tablet.
or
Not Currently Available for Direct Purchase