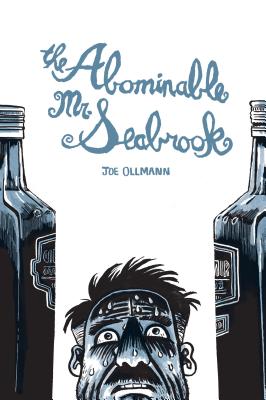 The Abominable Mr. Seabrook
Paperback

* Individual store prices may vary.
Description
"Ollmann spent 10 years researching Seabrook's strange, ramshackle life, and it shows: his book is wonderfully rich and detailed. Nothing seems to escape his attention or his compassion." —Rachel Cooke, The Guardian
The daring and destructive life of the man who popularized the word "zombie"
In the early twentieth century, travel writing represented the desire for the expanding bourgeoisie to experience the exotic cultures of the world past their immediate surroundings. Journalist William Buehler Seabrook was emblematic of this trend—participating in voodoo ceremonies, riding camels cross the Sahara desert, communing with cannibals and most notably, popularizing the term "zombie" in the West. A string of his bestselling books show an engaged, sympathetic gentleman hoping to share these strange, hidden delights with the rest of the world. He was willing to go deeper than any outsider had before. But, of course, there was a dark side. Seabrook was a barely functioning alcoholic who was deeply obsessed with bondage and the so-called mystical properties of pain and degradation. His life was a series of traveling highs and drunken lows; climbing on and falling off the wagon again and again. What led the popular and vivid writer to such a sad state?
Cartoonist Joe Ollmann spent seven years researching Seabrook's life, interviewing surviving family and accessing long neglected archives, in order to piece together the peripatetic life of a forgotten American writer. Often weaving in Seabrook's own words and those of his biographers, Ollmann's The Abominable Mr. Seabrook posits Seabrook the believer versus Seabrook the exploiter, and leaves the reader to consider where one ends and the other begins.
Praise For The Abominable Mr. Seabrook…
"Remarkable... carefully researched... a triumph of technical cartooning."—Los Angeles Review of Books
"In Ollmann's sweaty, ink-stained mitts, Seabrook's life becomes a cautionary tale, character study and novelistic American tragedy all at once."—Globe & Mail
"Ollmann skillfully captures Seabrook's ardent desire to experience life and write about it even as he's killing himself with drink...As both a narrative and a story in pictures, this is an early candidate for the year's best graphic biography." —Publishers Weekly starred review
"[Ollmann is] a world leader in the school of social-realist cartoonist/writers, and his epic new graphic-novel biography The Abominable Mr. Seabrook is his most ambitious and fully realized work yet." —The Montreal Gazette

"Ollmann packs in as many excursions, marriages, benders, and kinky dalliances as he can. It's a compelling look at an interesting literary figure who is mostly forgotten today." —Mental Floss

"An unflinching look at Seabrook, his literary accomplishments and failures, his terrible self-destructiveness, and the awful spiral that took him from the heights of American letters to an ignominious suicide after his discharge from a psychiatric facility." —Boing Boing
Drawn and Quarterly, 9781770462670, 316pp.
Publication Date: January 24, 2017
About the Author
Joe Ollmann lives in Montreal with his wife and children. He is the winner of the Doug Wright Award for best cartooning.