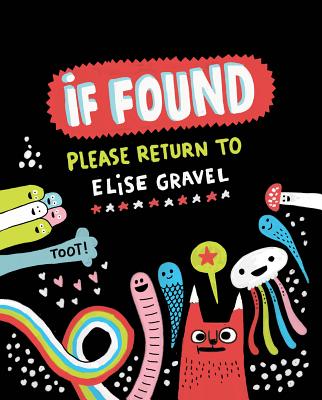 If Found...Please Return to Elise Gravel (Hardcover)
Drawn and Quarterly, 9781770462786, 100pp.
Publication Date: June 6, 2017
* Individual store prices may vary.
Description
Welcome to the charming world of cartoonist Elise Gravel's notebook, where her imagination runs wild with creatures of all shapes and sizes
In the outrageously amusing If Found…Please Return to Elise Gravel, Elise Gravel offers readers a sneak peek into her sketchbook, where colorful monsters, imaginary friends, a grumpy things reign supreme. Meet Donald, who sings off-key; Francine, who likes to eat stones; and Marvin, the man with lots of stuff in his beard. Mixing the real with the fantastical, Elise's drawings exude curiosity, as microbes and mushrooms share the page with speckled pepper pops, gloppers, and floofs.
Filled to the brim with vibrant felt marker illustrations, If Found… is not just an exhibition of Gravel's work, but a challenge to young artists to keep a daily sketchbook. She reveals her top tips to becoming a successful illustrator—practice! practice! practice!—while empowering young artists to face their fears of making "ugly drawings." Stop worrying about what makes a drawing good or bad—Elise draws anything and everything and you can too!
About the Author
Having completed her studies in graphic design, Elise Gravel found herself quickly swept up into the glamorous world of illustration. She is the author and illustrator of Jessie Elliot Is a Big Chicken. Her old design habits drive her to work a little text here and there into her drawings and she loves to handle the design of her assignments from start to finish. She is inspired by social causes and is turned on by projects which can handle a good dose of eccentricity. She lives in Montreal.
Praise For If Found...Please Return to Elise Gravel…
"What, exactly, does it take to be a great artist? ... as Gravel gracefully demonstrates, it actually can (and should be!) a lot of fun."—School Library Journal
"A bright, colorful and quirky paean to drawing, imagination, and creativity."—NPR
"If Found… Please Return to Elise Gravel... feels like accidentally uncovering the greatest (and silliest) sketchbook of all."—The Hollywood Reporter
"[If Found] offers a kind of evangelism for the joy of drawing, as expressed through tons of Gravel's silly, colorful critters... Make ugly drawings. Make stupid drawings. Make a lot of drawings, and make them for yourself."—Paste
"A rare mix of wackiness and savvy counsel—just right for getting the creative juices flowing."—Kirkus Reviews
"A valuable message for adult artists that want to achieve a more liberated state of mind..."—The AV Club

"This fascinating, quirky and liberating glimpse into the creative process will inspire budding artists and daydreaming doodlers alike."—National Reading Campaign

"Elise Gravel invites the reader in to the world of her little black notebook. In it are creatures and places familiar and imaginary, in a style that embodies quirkiness, whimsy, and humor ... an open-hearted drawing prompt for kids, or adults, who want to draw more."—Youth Services Book Review