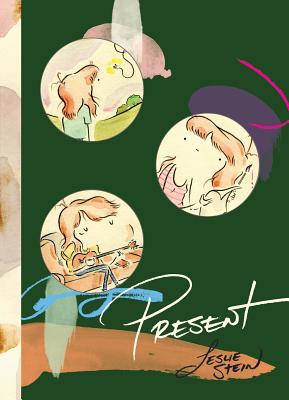 Present
Hardcover

* Individual store prices may vary.
Description
A lyrical exploration of the city and memory, as drawn by a Vice cartoonist
Leslie Stein takes us on a sinuous urban stroll divorced from destination, glimpsing New York City through her open eyes. While she is closing up a bar late at night, she is also an adolescent at a rave in the mountains, an adult grappling with her grandfather's fading memory or at one of her first waitressing jobs. Stein is a master storyteller, an urban explorer, and a loyal guide through dark days and simple, blissful encounters. Stein's curiosity about and generosity toward the world around her come through powerfully: each colorful story flows with vivid watercolors and delicate ink lines. Here, an autobiography is built through memories and moments tied together by loose lines, evoking a beautiful dreamlike yet endlessly relatable glimpse into the world of a thirty-something woman carving out a life for herself, one step at a time.
Known for her acclaimed Eye of the Majestic Creature series, collected here are Stein's serialized Vice.com comics which have become a staple for the site, showcasing her storytelling abilities with a freer style. With an introduction and new material, Present will be a deluxe die-cut hardcover that is a meditation on memory. Stein asks us to take a moment to be here now, while acknowledging the other places and people we always carry with us.
Praise For Present…
"[Present] is visually minimalist — yet expansive in terms of honesty and emotion."—Hollywood Reporter
"Reading Leslie Stein's comics – drawn from evanescent moments in daily life and the curious memories they encourage to surface – always feels strangely immersive, like experiencing the inside of someone else's head... [Present offers] modest, compassionate epiphanies."—Globe & Mail
"A collection of diarylike graphic short stories — frank, charming, insightful meditations on daily life that manage to be sentimental but not cloyingly so."—Buzzfeed, Best Books of 2017

"The drawings in Leslie Stein's new book, Present, are prismatic, loopy, and effervescent. Her handwritten dialogue, squiggly forms, and watercolor washes are irresistible... I was caught off guard by the aching loneliness that permeates the book's autobiographical stories... by book's end, the loneliness feels companionable, like your reflection in a mirror."—Paris Review
"With minimalist linework and delicate watercolors... Stein brings a setting to life with rich color. [Present] is full of smart artistic choices that illuminate Stein's feelings in the moment, [in which] readers can discover the full range of her talent."—AV Club

"Every page is suffused with empathy, while resisting the saccharine: there are no tidy endings, nor smug moralizing. Stein's vibrant watercolors are a marvel, especially in the palette... Even the lettering tells a story, often exploding on the page in different colors and sizes. It all adds up to a sweet, relatable portrait of the minutiae that make life worth living."—Publishers Weekly, Starred Review

"Inventive and utterly unique."—Booklist

"Weird, warm, refined, delicate, softly precise and open-hearted, all at the same time."—Paste

Drawn and Quarterly, 9781770462946, 168pp.
Publication Date: October 17, 2017
About the Author
Leslie Stein is the creator of the Eye of the Majestic Creature series, as well as the diary comic Bright-Eyed at Midnight. Her diary comics appear regularly on Vice. She lives in Brooklyn, NY.
or
Not Currently Available for Direct Purchase