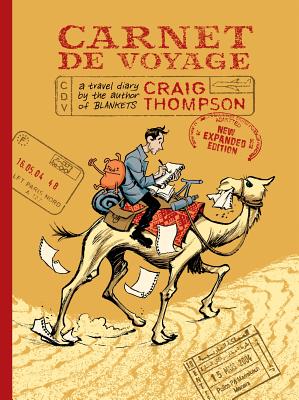 Carnet de Voyage (Hardcover)
Drawn and Quarterly, 9781770463080, 256pp.
Publication Date: April 24, 2018
Other Editions of This Title:
Paperback (8/3/2004)
* Individual store prices may vary.
Description
A unique insight into an acclaimed cartoonist's travels through Europe and Morocco
Riding the international success of Blankets, Craig Thompson sets out on a tour across Europe and Morocco, promoting the various European editions of his book and beginning research for his next graphic novel, Habibi. Carnet de Voyage is a gorgeous sketchbook diary of his travels as he finds intellectual and spiritual stimulation during the day-to-day work of being an author. From wandering around Paris and Barcelona between events, to navigating markets in Fez and fleeing tourist traps in Marrakesh, we see glimpses of each place, rendered in Thompson's exquisite ink line.
While desert landscapes and crowded street scenes flow across the pages, the sketchbook is packed first and foremost with people—travelers passing through, the friends and lovers he meets along the way, distant figures of old friends and other cartoonists who freely weave in and out of his subconscious. This expanded edition also includes a new epilogue drawn from his most recent European book tour, including several familiar faces and Thompson's reflections on keeping a sketchbook. Carnet de Voyage is a casual yet intimate portrait of a celebrated cartoonist at a moment between works—surprisingly open and candid in his observations and revelations.
About the Author
Craig Thompson is a cartoonist and the author of the award-winning books Blankets, Carnet de Voyage, Good-bye Chunky Rice, and Habibi. Thompson was born in Michigan in 1975, and grew up in a rural farming community in central Wisconsin. His graphic novel Blankets won numerous industry awards and has been published in nearly twenty languages around the world. Thompson lives in Portland, Oregon.
Praise For Carnet de Voyage…
"The sketchbook-cum-travelogue is quite a dreamy object… the book encourages the mind to wander. This is travel in its exploded view."—New York Times
"A comic for anyone who has ever travelled alone... Clever, funny and disarmingly honest, it is, of course, predictably lovely to look at."—The Guardian
"While there are all too many gatekeepers seeking to erect arbitrary walls between comics and "real literature" (whatever that means), Craig Thompson is undoubtedly one of the few cartoonists even the stuffiest academics would consider unimpeachable."—Paste
"Thompson is a gifted cartoonist, with an ability to tell long, complex stories while never sacrificing intricate details or the fluidity of his drawings."—Popmatters
"Carnet de Voyage witnesses a personal journey and a physical one, but manages to avoid cliché. Instead, Thompson's sincerity shines through and he sweetly goes on loving the world even when frozen with anxiety and sadness. In these moments, Thompson and his work are the most human and poignant."—ComicsVerse
"Captures to perfection and with a great sense of immediacy what it's like to be young, and on one's own on a foreign adventure. By turns lighthearted and profound, Carnet is an illuminating and charming experience."—School Library Journal