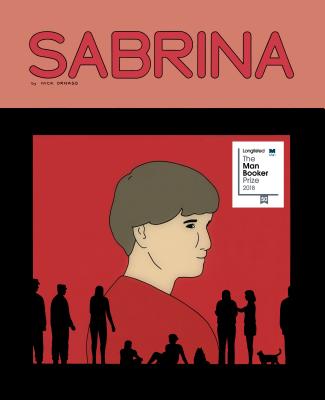 Sabrina
Hardcover

* Individual store prices may vary.
Other Editions of This Title:
Hardcover, Spanish (5/30/2019)
Description
THE FIRST EVER GRAPHIC NOVEL NOMINATED FOR THE MAN BOOKER PRIZE! A NEW YORK TIMES NOTABLE BOOK! ON 20 BEST OF 2018 LISTS INCLUDING THE WASHINGTON POST, NPR, NEWSWEEK, AND THE GUARDIAN!

"Sabrina is the intimate story of one man's suffering, but it also captures the political nihilism of the social-media era—a time when a President can dismiss the murder of a journalist by saying of the perpetrator, "Maybe he did. Maybe he didn't.""
—DT Max, The New Yorker

Conspiracy theories, breakdown, murder: Everything's gonna be all right—until it isn't

When Sabrina disappears, an airman in the U.S. Air Force is drawn into a web of suppositions, wild theories, and outright lies. He reports to work every night in a bare, sterile fortress that serves as no protection from a situation that threatens the sanity of Teddy, his childhood friend and the boyfriend of the missing woman. Sabrina's grieving sister, Sandra, struggles to fill her days as she waits in purgatory. After a videotape surfaces, we see devastation through a cinematic lens, as true tragedy is distorted when fringe thinkers and conspiracy theorists begin to interpret events to fit their own narratives.

The follow-up to Nick Drnaso's Beverly, winner of the Los Angeles Times Book Prize, Sabrina depicts a modern world devoid of personal interaction and responsibility, where relationships are stripped of intimacy through glowing computer screens. Presenting an indictment of our modern state, Drnaso contemplates the dangers of a fake-news climate. Timely and articulate, Sabrina leaves you gutted, searching for meaning in the aftermath of disaster.
Praise For Sabrina…
"Nick Drnaso's Sabrina is the best book—in any medium—I have read about our current moment. It is a masterpiece, beautifully written and drawn, possessing all the political power of polemic and yet simultaneously all the delicacy of truly great art. It scared me. I loved it."—Zadie Smith

"Sabrina is startling. Drnaso's formal ingenuity and confidence is matched by the acuity and depth of the story's awareness of who and where we are right now."—Jonathan Lethem

"Nick Drnaso is one of the most ambitious, singular cartoonists to emerge in recent years, and his dedication to novelistic fiction is an inspiration. Incisive, chilling, and completely unpredictable, Sabrina demonstrates the inexplicable power of comics at their best."—Adrian Tomine

"[Sabrina] is a Midwestern gothic tale for our times… A shattering work of art."—The New York Times 100 Notable Books of the Year

"Sabrina is not only a step forward for comic strip literary fiction, but a book that shows, as well as tells, the slippery horrors of our post-truth reality."—The Guardian Best Books of 2018

"It's a chilling distillation of the way the world feels nowadays."—NPR's Best Books of 2018

"Drnaso's simple, rigid drawings capture the bleak blankness of much contemporary life, anomie hovering over almost every interaction, both real and virtual... [Sabrina] leaves the audience holding its breath."—Kathleen Rooney, The Chicago Tribune

Drawn and Quarterly, 9781770463165, 204pp.
Publication Date: May 22, 2018
About the Author
Nick Drnaso was born in 1989 in Palos Hills, Illinois. His debut graphic novel, Beverly, received the Los Angeles Times Book Prize for Best Graphic Novel. He has contributed to several comics anthologies, self-published a handful of comics, been nominated for three Ignatz Awards, and coedited the second and third issues of Linework, Columbia College's annual comic anthology. Drnaso lives in Chicago, where he works as a cartoonist and illustrator.