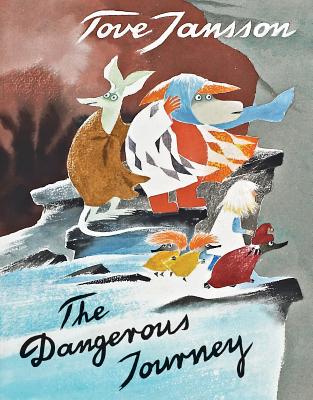 The Dangerous Journey
A Tale of Moomin Valley
Hardcover

* Individual store prices may vary.
Other Editions of This Title:
Hardcover (11/1/2010)
Description
Get swept away in this otherworldly adventure to Moominvalley through treacherous yet beautiful landscapes

Tove Jansson takes us on a beautifully illustrated and delightfully quirky journey through Moominvalley, perfectly capturing the experience and its emotional impact as seen through the innocent eyes of Susanna, who is bored with her life: Her cat is too content; her surroundings, too gentle. She craves adventure when there is none to be had. But when a new pair of glasses appears in front of her, she gets an opportunity to live the bold life that she has always longed for as her surroundings are transformed into a dark and sinister landscape. At first Susanna is afraid, but then her daring side takes over and she moves forward to an unknown destination, seeing some familiar faces along the way. Combating everything from an exploding volcano to a fierce winter storm, from mysterious monsters to stormy seas, Susanna and her newfound friends are given the adventure of a lifetime.

With subtle existential themes, a lyrical rhythm, and delicate watercolor illustrations, The Dangerous Journey captures the curiosity of children and adults alike. Published for the first time in North America, and the last picture book completed by the world-renowned Jansson, The Dangerous Journey pushes the emotions that underlie our nostalgia out into the open with an unparalleled viewpoint that always brings forth a new perspective. Take this fantastical journey to Moominvalley and never look back.
Praise For The Dangerous Journey: A Tale of Moomin Valley…
"Here is where Jansson's weird but true world begins; where fear,loneliness and insecurity are banished by love and the force of imagination." —Time

"[Jansson's] work soars with lightness and speed, and her drawingsonly echo her writing: delicate but precise, observant yet suggestive . . . Jansson was exceptional, an exuberant explorer of emotional independence and interdependence, a liberating force." —Los Angeles Times Book Review

"A lost treasure nowrediscovered—one of the sweetest, strangest comics strips ever drawn or written. A surrealist masterpiece. Honest." —Neil Gaiman, author of Sandman

"Moominis gorgeous, and is flat out the best Moomin book I've ever seen. Tove Jansson was a natural cartoonist. These strips are clever, gentle, witty, andcompletely engrossing." —Jeff Smith, cartoonist of Bone

"In the "Moomins" creator Tove Jansson's THE DANGEROUS JOURNEY… [Susanna] finds a pair of glasses that reveal the nightmare under the surface of things...unlike 99 percent of children's books, we are left without the reassurance that all is right in the end... Normal is perhaps a thing of the past."—New York Times

Drawn and Quarterly, 9781770463202, 32pp.
Publication Date: April 17, 2018
About the Author
Tove Jansson (1914–2001) was born in Helsinki and spent much of her life in Finland. She is the author of the Moomin books, including Comet in Moominland and Finn Family Moomintroll. Born into an artistic family—her father was a sculptor and her mother was a graphic designer and illustrator—Jansson studied at the University College of Arts, Crafts and Design in Stockholm, the Finnish Academy of Fine Arts, and L'École des Beaux-Arts in Paris. In addition to her Moomin books, she also wrote several novels, drew comic strips and worked as a painter and illustrator. In 1966, she was awarded the Hans Christian Andersen Medal for her body of work. Jansson had a studio in Helsinki but spent most of her time at her home on a small island called Klovharu.