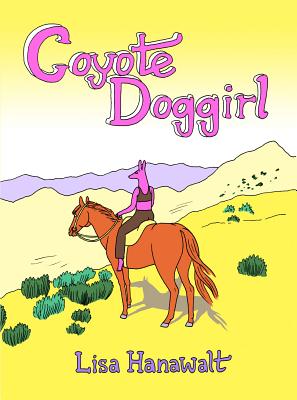 Coyote Doggirl
Hardcover

* Individual store prices may vary.
Description
Appeared on best of 2018 lists from NPR, Bustle, and Nylon!

"Coyote Doggirl is like Lisa Frank meets Butch Cassidy and the Sundance Kid… This book is as whimsical, funny and dark as any episode of that show."—NPR's Best Books of 2018

"Even further proof of Hanawalt's peculiar genius, her ability to access difficult truths in the most absurd ways possible."—Nylon's Best Illustrated Books of 2018

A raucous and fierce Western by the BoJack Horseman producer/production designer and award-winning cartoonist

Coyote is a dreamer and a drama queen, brazen and brave, faithful yet fiercely independent. She beats her own drum and sews her own crop tops. A gifted equestrian, she's half dog, half coyote, and all power. With the help of her trusty steed, Red, there's not much that's too big for her to bite off, chew up, and spit out right into your face, if you deserve it. But when Coyote and Red find themselves on the run from a trio of vengeful bad dogs, get clobbered by arrows, and are tragically separated, our protagonist is left fighting for her life and longing for her displaced best friend. Taken in by a wolf clan, Coyote may be wounded, but it's not long before she's back on the open road to track down Red and tackle the dogs who wronged her.

An homage to and a lampoon of Westerns like Butch Cassidy and the Sundance Kid, Lisa Hanawalt's Coyote Doggirl is a self-aware, playful subversion of tropes. As our fallible hero attempts to understand the culture of the wolves, we see a journey in understanding and misunderstanding, adopting and co-opting. Uncomfortable at times but nonetheless rewarding and empowering, the story of these flawed, anthropomorphized characters is nothing if not relentlessly hilarious and heartbreakingly human. Told in Hanawalt's technicolor absurdist style, Coyote Doggirl is not just a send-up of the Western genre but a deeply personal story told by an enormously talented cartoonist.
Praise For Coyote Doggirl…
"Lisa's work is a reminder of the limitless boundaries of one's imagination. She somehow creates fantastical worlds within our own, commenting on some of our most timely issues while exploring our most minute absurdities. I could spend all day inside this heartfelt, beautiful, twisted take on a classic Western."—Abbi Jacobson, co-creator of Broad City


"Coyote Doggirl is uppity, cocky, and occasionally profane, but she is also smart, clever, and outrageously funny. Lisa Hanawalt's comicbook tale of a half-coyote, half-dog feminist and her trusty steed, Red, makes you think as well as laugh. You go, Coyote Doggirl!"—Sandra Dallas, New York Times best-selling author


"A story of flight and vengeance, sunsets and sagebrush, love and leather underwear. Hanawalt's blues could be set in the sky and belong there; her pinks are almost alive. These are the cave paintings I want them to find in 10,000 years."—Patricia Lockwood, author of Priestdaddy


"Hanawalt is known for her ability to deliver genuinely hilarious visual gags and Coyote Doggirl is no exception. What's especially interesting to me, however, is how Coyote's tone refuses to stay put, venturing from slapstick to poignant, and finally into downright bleak territory, appropriate for a Western. Her deftness with color is also worth study. I'm taken by how her characters contrast with the iconic and carefully studied features of the western landscape, from mountain plateaus to bright and delicate wildflowers."—Kelly Sue DeConnick, author of Bitch Planet, Captain Marvel


"The hilarious, bloody journey unfolds with a childlike sense of adventure, bigger and brighter than life, shot through with a snarky adult sensibility."–Publishers Weekly Starred Review


"Hanawalt turns the Western genre into a shared joke, giving its too-serious elements an absurdist spin."—NPR


"The story's plucky heroine is a hot pink coyote-dog-girl hybrid with a great sense of fashion… Dirty wisecracks are tempered by rhapsodic, watercolor landscapes."—Huffington Post

"An introvert's paean to the pleasures of being alone [and] a love-letter deconstruction of the modern Cormac McCarthy-inspired Westerns that still place a premium on machismo and male violence."—The New Yorker

"Lisa Hanawalt's Coyote Doggirl is the sort of comic that quickly turns skeptics of the genre into fanatics... It's hilarious and cathartic and strange as hell."—GQ
Drawn and Quarterly, 9781770463257, 156pp.
Publication Date: August 21, 2018
About the Author
Lisa Hanawalt is an artist living in Los Angeles, CA. She is the creator of the animated series Tuca and Bertie—which will be premiering its second season on Adult Swim in 2021—and the production designer/producer on Netflix's Bojack Horseman. Lisa has worked on illustrations, book covers, animations, comics, and textile patterns. She co-hosts the podcast Baby Geniuses with comedian Emily Heller. Lisa has published three previous books with Drawn & Quarterly: My Dirty Dumb Eyes, Hot Dog Taste Test, and Coyote Doggirl.