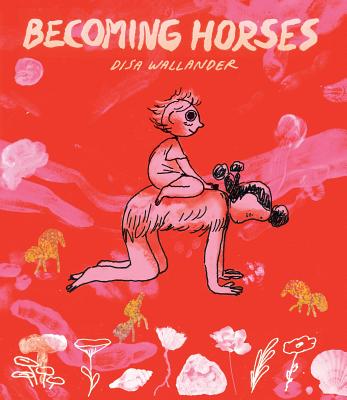 Becoming Horses (Paperback)
Drawn and Quarterly, 9781770463479, 160pp.
Publication Date: February 25, 2020
* Individual store prices may vary.
Description
Sometimes I dream about myself
and in my dream I'm someone else
But also, I am me
becoming the horse that I want to be.
Was it always like this? What if your self portrait was a collection of weird shapes? Have you ever felt like an abstract painting? Do you ever simultaneously wish and worry that the boundaries of your body will melt away and you'll become a magnificent horse? Becoming Horses is a book about squinting hard and looking from the right angle to find that everything around you sparkles—just a little—and the shapes of things are not firm but fuzzy. The You you know may shift and take form as a beautiful horse, a sunset, or something so special, so huge that you could never describe it.
Disa Wallander's Becoming Horses is a mix of delicate cartooning and brash collage—watercolor and photography. Her colorful flowing drawings and watercolors are experimental yet accessible, as her characters mull big questions about life and art, philosophizing in a thoroughly modern voice. Bright dialogue and pleading silences create a beautiful journey that is, in fact, "the destination."
About the Author
Disa Wallander is a Swedish cartoonist living and working in Stockholm. She loves to make zines and experiment with bringing collage and 3D materials into her comics. In her early twenties she read some philosophy books that suggested that nothing was real and ever since then she has made comics with the compulsion to affirm the existence of the world inside her head.
Her sporadic comic strip "Slowly dying" features an array of nameless characters that also appear in the long-form books The Nature of Nature and Becoming Horses. Her work has been featured in various anthologies such as NOW, kuš!, Drunken Boat, and Nobrow Magazine.
Praise For Becoming Horses…
"A fantastic exploration of movement and form. Evokes equal parts Jules Feiffer and Tove Jansson."—Michael DeForge, author of Leaving Richard's Valley.
"I wish Disa Wallander's images could be eaten or stolen or inhabited. Because I find them so beautiful it hurts to have to settle with just looking at them. But the greatest thing about her book is that it talks about exactly that—the fact that we humans would sometimes like to inhabit works of art or become horses, and that these desires are as comforting as they are painful."—Julie Delporte, author of This Woman's Work