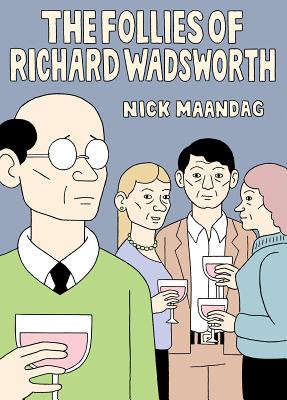 The Follies of Richard Wadsworth (Hardcover)
Drawn and Quarterly, 9781770463615, 152pp.
Publication Date: June 4, 2019
* Individual store prices may vary.
Description
A dark, bizarre comedy where teachers push boundaries into preposterous places

The Follies of Richard Wadsworth showcases Nick Maandag's signature blend of deadpan satire and exceedingly unexpected plot twists. In "Night School," a Modern Managerial Business Administration and Operational Leadership class goes awry when a fire alarm brings the Chief to school and he decides to stick around to teach the students a thing or two about leadership—and discipline. "The Follies of Richard Wadsworth" follows the title character, a professor of philosophy, as he begins work as a contract instructor at yet another university. When Wadsworth finds himself smoking reefer at his student's party and discovers she works at a rub 'n' tug, an off-kilter plan is hatched. And in "The Disciple," a yarn about a coed Buddhist monastery, Brother Bananas, the resident gorilla, isn't the only one having difficulty keeping his lust tucked safely under his robe.
In Maandag's hands—hands that love to toy with morally ambiguous characters and flirt with absurdity—troubled men make poor decisions, unlikable characters gain our sympathies through their very haplessness, and riotous laughs ensue.
Maandag has achieved cult acclaim through his self-published and micro-published comics, and The Follies of Richard Wadsworth is his debut book. His mechanical, affectless characters and economical artwork efficiently deliver cringes, heightening the awkward silence and stillness of his hilarious comics.
About the Author
Nick Maandag was born in Mississauga, Ontario, in 1982. He studied philosophy at Erindale College before moving to Toronto in 2006. His previous comics include Streakers, The Libertarian, and Facility Integrity. He has received nominations for both the Doug Wright and Joe Shuster Awards.
Praise For The Follies of Richard Wadsworth…
"When this graphic novel arrived, I absent-mindedly picked it up and flipped through it, then started to laugh. Two hours later, I'd read it in a single sitting, without meaning to, and forgotten to eat. I can think of no higher accolade for a comical book."—The Toronto Star
"A collection of comics that tell the stories of questionable protagonists with messy lives that showcase cartoonist Nick Maandag's absurdist sense of humour."—CBC books
"Maandag showcases his excellent deadpan, cringe-inducing humor in this hilariously unsettling collection of three short stories. Using a spare line and a minimum of expressiveness, he repeatedly skewers the self-important, the self-righteous, and the self-absorbed."—Publishers Weekly
"A complete, riotous success."—Broken Pencil
"Expertly paced."—Winnipeg Free Press
"It's tough to be actually funny – most books with pull quotes claiming "it had me crying with laughter" don't usually raise more than a wry smile in practice. Follies bucks this trend, with genuine moments of deadpan comedy."—The Quietus
"The subtle dialogue and absurd situational comedy will cause readers themselves to have to pause until the groaning chuckles fade. Long after they have finished the book, too, the thoughtful satire will return to make the readers think and laugh again."—Blogcritics
"Maandag's proper place in the canon is alongside creators like Daniel Clowes and Adrian Tomine."—The London Free Press
"Deadpan humor that works in unison with the absurdity and surrealism that define the situations the characters are in."—Comics Beat
"Characters still flail and fail to hilarious ends, but for some (like the titular Wadsworth) he grants them a refreshing and unexpected stay, and with it the possibility of hope."—The Comics Journal
"Nick Maandag offers us the most perfectly obnoxious characters—tortured by their own self importance, lecherous desire and profound idiocy. These stories are both entertaining and highly disturbing."—Hartley Lin, Young Frances

"Dry comedy that will make you wet with laughter. This book is a treat for true connoisseurs of slow-burn, ribald gut-punches. Contains numerous Joke Of The Year contenders."—Simon Haneslmann, cartoonist of Megg & Mogg