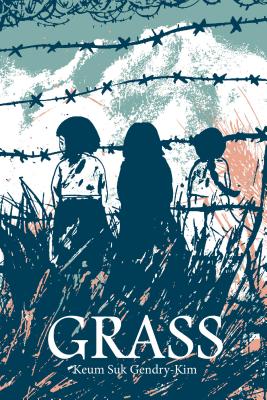 Grass
Paperback

* Individual store prices may vary.
Description
Appeared on best of the year lists from The New York Times, The Guardian, and more! Winner of The Cartoonist Studio Prize for Best Print Comic of the Year!

Grass is a powerful antiwar graphic novel, telling the life story of a Korean girl named Okseon Lee who was forced into sexual slavery for the Japanese Imperial Army during the Second World War—a disputed chapter in twentieth-century Asian history.

Beginning in Lee's childhood, Grass shows the lead-up to the war from a child's vulnerable perspective, detailing how one person experienced the Japanese occupation and the widespread suffering it entailed for ordinary Koreans. Keum Suk Gendry-Kim emphasizes Lee's strength in overcoming the many forms of adversity she experienced. Grass is painted in a black ink that flows with lavish details of the beautiful fields and farmland of Korea and uses heavy brushwork on the somber interiors of Lee's memories.

The cartoonist Gendry-Kim's interviews with Lee become an integral part of Grass, forming the heart and architecture of this powerful nonfiction graphic novel and offering a holistic view of how Lee's wartime suffering changed her. Grass is a landmark graphic novel that makes personal the desperate cost of war and the importance of peace.
Praise For Grass…
Winner of the Cartoonist Studio Prize, the Harvey Award, and the Big Other Book Award

"Gendry-Kim's forceful art, with its wild lines and dense black, plunges fully into the realm of nightmare. We see the men in silhouette, each face just a pair of leering eyes and a set of demonic teeth... The next two pages are as heart-stopping as any comics I've seen. They depict nothing less than the death of a soul."—The New York Times Book Review

"The term "comfort women" [is] controversial, distorting, inadequate – a euphemism that misrepresents the sexual slavery endured by Korean girls and women during the Second World War at the hands of the Japanese military. Grass tells the story of one of this system's survivors, revealing the horrific realities that the term "comfort woman" occludes."—The Globe & Mail

"Heart-rending nonfiction tale of wartime Korea."—Bustle

"Based on interviews with Ok-sun and rendered with exquisite brushwork, Gendry-Kim's account delivers uncommonly powerful reading about survival and the struggle for agency in the aftermath of incredible trauma."—Library Journal, best of 2019

"Visually arresting."—Hyperallergic

"Difficult, moving... Gendry-Kim tells Ok-sun's powerful story with grace, artfulness, and humility; it deserves witness."—Publishers Weekly

"Like the best entries of the graphic-historical canon, Grass is at once the singular and personal story of one woman's life and a book about the power and the necessity of seeing and sharing the human stories around us."—Quill & Quire

"Lee's life story, as drawn in Gendry-Kim's compassionate graphic memoir, deserves to be widely read as much for its historical lessons as its graceful visual storytelling."
—Winnipeg Free Press

"Gendry-Kim's thoughtful storytelling and exquisite brushwork brilliantly convey Ok-sun's story, producing an uncommonly powerful reading experience about one woman's enduring struggle for agency over her own life and body."—Library Journal

"A powerful novel that bears witness to the true story of a young woman forced into slavery during WWII."—Words Without Borders

"Rarely is it seen in biographic memoirs the ability to depict a fullness to the person who lived the tale, and Gendry-Kim has clearly taken the time to make this a tale of living instead of solely a tale of survival."—Comics Beat

"It takes a special talent to make this tragic story into such compelling reading."
—Montreal Review of Books

"[Grass] doesn't pull its punches… Life was harsh for Lee Ok-sun [and] Keum Suk Gendry-Kim's book, based on interviews with Lee at a nursing home, is not an easy read but depicts with sensitivity the twists and turns of her journey."—South China Morning Post

"A landmark graphic novel that makes truly personal the desperate cost of war and the importance of peace."—International Examiner

"Grass tells its story so powerfully because it speaks so frankly."—Blogcritics

"I couldn't be more grateful to Keum Suk Gendry-kim for telling this story, and to Janet Hong for so faithfully translating not only her words, but their impact, their clarity, their truth."
—Books and Bao Best Translated Books of 2019

"With an array of visual techniques, from rough smudges to detailed strokes, some fluid and others startling, Keum Suk Gendry-Kim's Grass challenges readers to think critically about their own responsibility as they absorb former "comfort woman" Lee Ok-sun's story. What is our role as readers in relation to this story? How should we approach inevitable gaps in memory and failures of our own knowledge and imagination? What are the ethics in (re)telling their narratives? These questions, manifested through the aforementioned deft craftsmanship and the portrayal of the artist interviewing Lee, serve to ultimately prove one of the most powerful qualities of art and literature: to act as a portal through which we test and expand our empathy."—Emily Yoon, A Cruelty Special to Our Species, Ordinary Misfortunes

"A small girl on a large, empty page. Alone in a cruel uncaring world. A world at war. Grass is heartbreaking and beautiful. Recurring images of nature, at once delicate and strong, help you to breathe while you choke up from the brutality. Repetition of sky, trees, birds, grass, youth, hunger, old age, and friendship. War must end. Then tears and strength and heroism. Loss but also hope."—Miriam Katin, Letting Go, We Are On Our Own
Drawn and Quarterly, 9781770463622, 480pp.
Publication Date: August 27, 2019
About the Author
Keum Suk Gendry-Kim was born in Goheung in Jeolla Province, a town famous for its beautiful mountains and shores. Her graphic novels include The Song of My Father, Jiseul, and Kogaeyi, which have been translated and published in France. She also wrote and illustrated The Baby Hanyeo Okrang Goes to Dokdo, A Day with My Grandpa, and My Mother Kang Geumsun. She received the Best Creative Manhwa Award for her short manhwa "Sister Mija," about a comfort woman. She has had exhibitions of her works in Korea and Europe since 2012, and her graphic novels and manhwa deal mostly with people who are outcasts or marginalized.