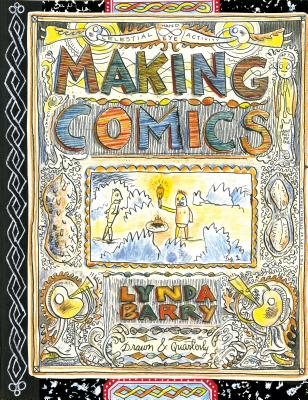 Making Comics
Paperback

* Individual store prices may vary.
Description
The bestselling, idiosyncratic curriculum from a 2019 MacArthur Fellow will teach you how to draw and write your story

"The self-help book of the year."—The New York Times

Hello students, meet Professor Skeletor. Be on time, don't miss class, and turn off your phones. No time for introductions, we start drawing right away. The goal is more rock, less talk, and we communicate only through images.

For more than five years the cartoonist Lynda Barry has been an associate professor in the University of Wisconsin–Madison art department and at the Wisconsin Institute for Discovery, teaching students from all majors, both graduate and undergraduate, how to make comics, how to be creative, how to not think. There is no academic lecture in this classroom. Doodling is enthusiastically encouraged.

Making Comics is the follow-up to Barry's bestselling Syllabus, and this time she shares all her comics-making exercises. In a new hand-drawn syllabus detailing her creative curriculum, Barry has students drawing themselves as monsters and superheroes, convincing students who think they can't draw that they can, and, most important, encouraging them to understand that a daily journal can be anything so long as it is hand drawn.

Barry teaches all students and believes everyone and anyone can be creative. At the core of Making Comics is her certainty that creativity is vital to processing the world around us.
Praise For Making Comics…
Awarded a 2019 MacArthur Genius Grant

"Eternally wise and strange."—NPR

"Barry is pushing the envelope on understanding how the brain creates and responds to words and pictures — a scholarly envelope that, in her mind, should be positively covered with illuminating doodles."—The Washington Post

"Making Comics is stuffed to the gills with Barry's friendly wisdom, characteristic doodles, and mind-expanding exercises."—Paris Review

"Barry pairs a spirit of wise and open encouragement with a demand for rigor... The underlying thesis of Making Comics is that anyone can discover their own cartooning genius, if they are willing to put in the work."—Salon

"What's most delightful about Making Comics is its emphasis on action, on exercise, on practice—on actual making."—New Republic

"Part motivational lecture, part creative writing exercise, part group therapy session, and part trippy meditation on memory and play… Barry is not only a genius herself but an encourager of genius in others."—The Nation

"[Making Comics] will help anyone, adult or child, to regain the spirit of freedom, improvisation and joy."—KCRW Bookworm's Best Books of 2019

"One of the best books on unlocking creativity I've ever read: humane, interdisciplinary, fun, and in touch with something deep and mysterious."—Boing Boing Best Books of 2019

"An instructional book that doubles as a work of art... These lessons from Barry, like her art, capture her own brand of magic: a synthesis of theory, practice, memory, imagination, and "a certain sort of unlearning."—Publishers Weekly starred review

"The activities, drawn from Barry's own magical classroom, are fun, flexible, and easy to follow [while] the reality that art drives and sustains us, if we let it, is present on every page… An engaging combination of how-to and why-you-must, perfect for anyone with a story itching to be told."—Library Journal, Starred Review

"[Making Comics] feels like taking a class from Marlys while stuck in the living room at your cousin's house, and it's a delightful, shed-your-inhibitions-about-your-talent kind of instruction."—Chicago Reader

"[Making Comics is] full of drawing exercises that help you access your creativity and silence your inner critic."—CBC Q

"Making Comics is both a tool kit of her comics-making exercises and a tender manifesto about how anyone can create."—Lit Hub

"There's a serious theoretical underpinning here, and Barry's lighthearted and genuinely fun approach is directly in service of it: banishing your inner critic, developing a disciplined (but playful) practice, and dismantling beliefs about what constitutes a "good" comic is key to finding something organic, original, and true."—Booklist, starred review

"A sequential art legend known for her imaginative and deeply personal work... shares her comics-making exercises that detail her creative curriculum."—My Modern Met

"A lesson in rekindling our inner spark...part philosophical discussion, part memoir, and part straight-into-the-vein fun."—Black Girl Nerds

"I've read a lot of writing and drawing textbooks, and Barry's is the only one that has made me choke up with emotion."—Pop Matters

"Delightful… [Making Comics] offers a thoughtful, clear, step-by-step approach to generating creative work in words and pictures, which is daunting when a person is staring at a blank page and wondering how they could possibly begin."—New City Lit
Drawn and Quarterly, 9781770463691, 200pp.
Publication Date: November 5, 2019
About the Author
Lynda Barry has worked as a painter, cartoonist, writer, illustrator, playwright, editor, commentator, and teacher and found that they are very much alike. She lives in Wisconsin, where she is a professor of Interdisciplinary Creativity at the University of Wisconsin-Madison.

Barry is the inimitable creator behind the seminal comic strip that was syndicated across North America in alternative weeklies for two decades, Ernie Pook's Comeek, featuring the incomparable Marlys and Freddy. She is the author of The Freddie Stories, One! Hundred! Demons!, The! Greatest! of! Marlys!, Cruddy: An Illustrated Novel, Naked Ladies! Naked Ladies! Naked Ladies!, and The Good Times are Killing Me, which was adapted as an off-Broadway play and won the Washington State Governor's Award.

She has written three bestselling and acclaimed creative how-to graphic novels for Drawn & Quarterly, What It Is which won the Eisner Award for Best Reality Based Graphic Novel and R.R. Donnelly Award for highest literary achievement by a Wisconsin author; Picture This; and Syllabus: Notes From an Accidental Professor, and In 2019 she received a MacArthur Genius Grant. Barry was born in Wisconsin in 1956.