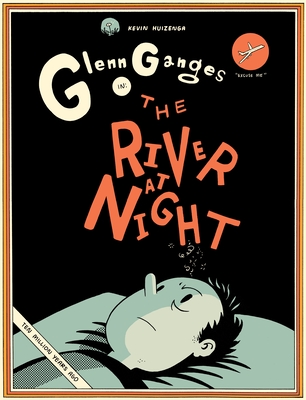 The River at Night (Hardcover)
Drawn and Quarterly, 9781770463745, 216pp.
Publication Date: September 24, 2019
* Individual store prices may vary.
Description
A man has trouble falling asleep and reflects on his life, marriage, and time itself
In The River at Night, Kevin Huizenga delves deep into consciousness. What begins as a simple, distracted conversation between husband and wife, Glenn and Wendy Ganges—him reading a library book and her working on her computer—becomes an exploration of being and the passage of time. As they head to bed, Wendy exhausted by a fussy editor and Glenn energized by his reading and no small amount of caffeine, the story begins to fracture.
The River at Night flashes back, first to satirize the dot-com boom of the late 1990s and then to examine the camaraderie of playing first-person shooter video games with work colleagues. Huizenga shifts focus to suggest ways to fall asleep as Glenn ponders what the passage of time feels like to geologists or productivity gurus. The story explores the simple pleasures of a marriage, like lying awake in bed next to a slumbering lover, along with the less cherished moments of disappointment or inadvertent betrayal of trust. Huizenga uses the cartoon medium like a symphony, establishing rhythms and introducing themes that he returns to, adding and subtracting events and thoughts, stretching and compressing time. A walk to the library becomes a meditation on how we understand time, as Huizenga shows the breadth of the comics medium in surprising ways. The River at Night is a modern formalist masterpiece as empathetic, inventive, and funny as anything ever written.
About the Author
Kevin Huizenga splits his time between Chicago and Minneapolis. He has lived near the Mississippi River for almost twenty years but only swam in it once. His favorite river is the Wabash. His character Glenn Ganges is based on his brother-in-law and the name is a reference to two separate towns that appear on the same sign on the interstate.
Praise For The River at Night…
"Glenn Ganges in: The River at Night is perilously philosophical, goofily logical, lovingly wild. In Huizenga's hands, an ordinary day reveals its acme holes of infinite regress and counterfactual calamity. A wonderful book, to read and read again."—Rivka Galchen, author of Atmospheric Disturbances and Little Labours
"A mix of John McPhee and Richard McGuire's "Here," A River at Night is about making the best of life when you know that the world's been around for billions of years and will go on long after you, too, are gone. How wonderful to spend time with these sweet, gentle characters as they stare straight into the unfeeling universe and decide to make the best of it. A truly beautiful book."—Paul Ford, National Magazine Award-winning Technology Critic
"Wow! I was not prepared for this: The River at Night is a surprising, beautifully rendered, mind-expanding, heartwarming exploration of what it means to be human, to have thoughts, to lie in bed all night after guzzling too much coffee, to follow your thoughts on a journey that maps the universe and makes light of the electrical activity of a brilliant mind. Kevin Huizenga is a kind of dreamer who gets us to think, to love what's in our heads, to love what's in his. Everybody will dig this book!"—Matthew Klam, author of Who is Rich?