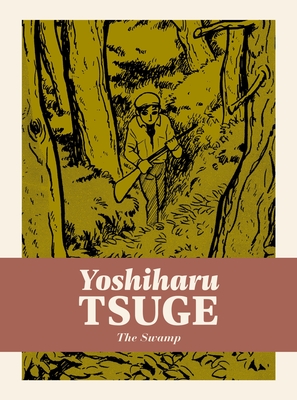 The Swamp (Yoshiharu Tsuge)
Hardcover

* Individual store prices may vary.
Description
The essential early work by the modern master of Japanese literary comics

Yoshiharu Tsuge is one of the most influential and acclaimed practitioners of literary comics in Japan. The Swamp collects work from his early years, showing a major talent coming into his own. Bucking the tradition of mystery and adventure stories, Tsuge's fiction focused on the lives of the citizens of Japan. These mesmerizing comics, like those of his contemporary Yoshihiro Tatsumi, reveal a gritty, at times desperate postwar Japan, while displaying Tsuge's unique sense of humor and point of view.

"Chirpy" is a simple domestic drama about expectations, fidelity, and escape. A couple purchase a beautiful white bird with a red beak. It is said that the bird will grow attached to its owners and never fly away. While the girlfriend is working as a hostess, flirting with men for money, the boyfriend decides to draw a portrait of the new family member, and disaster strikes.

In "The Swamp," a simple rural encounter is charged with sexual tension that is alluring but also fraught with danger. When a young woman happens upon a wing-shot goose, she tries to calm it then suddenly snaps its neck. Later, she befriends a young hunter and offers him shelter, but her motivations remain unclear, especially when the hunter notices a snake in the room where they'll both be sleeping.

The Swamp is a landmark in English manga-publishing history and the first in a series of Tsuge books Drawn & Quarterly will be publishing.
Praise For The Swamp (Yoshiharu Tsuge)…
"Powerfully strange... A gritty and humorous postwar Japan is depicted in these early works by the influential manga cartoonist." —Rachel Cooke, The Guardian

"Exemplary... This fine start to a much-anticipated Tsuge retrospective series offers an elucidating glimpse into modern manga's origins." —Publishers Weekly, Starred Review

"Tsuge and Kafka use images that draw attention to the surreal uncertainty of ordinary life. In the spirit of Kafka, the mysterious endings of Tsuge's comics often feel fable-like with their haunting final images. But in both cases, these are images that linger rather than conclude. These are fables where the sense of virtue, truth, and reality evocatively swings." —Los Angeles Review of Books

"Ordinary people struggle with ideas of destiny and meaning in this collection of short stories from the early days of Garo by Yoshiharu Tsuge, all dating to the mid-1960s when he was actively developing his avant-garde and surrealist style of storytelling...one of the great creators to have come out of the mid-twentieth century."
—Anime News Network

"Iconic Japanese manga innovator Yoshiharu Tsuge is poised for international recognition with the publication of the first of a seven-volume series." —Shelf Awareness

"Throughout the work here beautifully detailed establishing panels are used to show the setting, switching to much more simple panels to foreground the action. This excellent collection is a great introduction to Tsuge's early career." —The Quietus

"These stories showcase the poverty of postwar Japan and the bleak and enigmatic imagination of the manga master." —ArtReview Asia
Drawn and Quarterly, 9781770463844, 256pp.
Publication Date: April 28, 2020
About the Author
Yoshiharu Tsuge was born in Tokyo in 1937. Influenced by the realistic and gritty rental manga of Yoshihiro Tatsumi, he began making his own comics. He was also recruited to assist Shigeru Mizuki during his explosion of popularity in the 1960s. In 1968, working for Garo magazine, Tsuge published the ground-breaking story "Neji-shiki", which established him as an influential manga-ka and a cultural touchstone in the changing Japanese art world. He is considered the originator and greatest practitioner of the "I-novel" method of comics-making. In 2005, Tsuge was nominated for the Best Album Award at the Angouleme Comics Festival and in 2017 he won the Japan Cartoonists Association Grand Award.