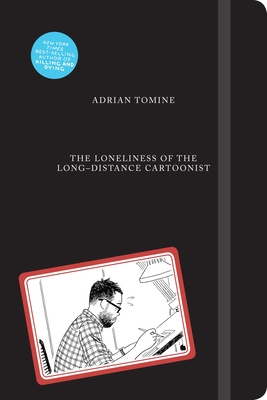 The Loneliness of the Long-Distance Cartoonist
Hardcover

* Individual store prices may vary.
Description
One of the New York Times 100 Notable Books of 2020! Featured on best of the year lists from Publishers Weekly and the Washington Post!

A comedic memoir about fandom, fame, and other embarrassments from the life of a New York Times bestseller

What happens when a childhood hobby grows into a lifelong career? The Loneliness of the Long-Distance Cartoonist, Adrian Tomine's funniest and most revealing foray into autobiography, offers an array of unexpected answers. When a sudden medical incident lands Tomine in the emergency room, he begins to question if it was really all worthwhile: despite the accolades and opportunities of a seemingly charmed career, it's the gaffes, humiliations, slights, and insults he's experienced (or caused) within the industry that loom largest in his memory.

Tomine illustrates the amusing absurdities of how we choose to spend our time, all the while mining his conflicted relationship with comics and comics culture. But in between chaotic book tours, disastrous interviews, and cringe-inducing interactions with other artists, life happens: he fumbles his way into marriage, parenthood, and an indisputably fulfilling existence. A richer emotional story emerges as his memories are delineated in excruciatingly hilarious detail.

In a bold stylistic departure from his award-winning Killing and Dying, he distills his art to the loose, lively essentials of cartooning, each pen stroke economically imbued with human depth. Designed as a sketchbook complete with placeholder ribbon and an elastic band, The Loneliness of the Long-Distance Cartoonist shows an acclaimed artist at the peak of his career.
Praise For The Loneliness of the Long-Distance Cartoonist…
"Adrian Tomine has gone from "the boy wonder of mini-comics" (per Daniel Clowes) to master of the form... The 26 vignettes here trace a lifetime of neuroses and humiliations [with] artful minimalism."—Ed Park, New York Times Book Review

"What Tomine is exploring is the dichotomy between how we see ourselves and how we are (or are not) seen…. We are each alone in our heads. Yet the faith of memoir, or autofiction, is that this is what connects us: the expression of our humanity."—David Ulin, Los Angeles Times

"Tomine, now considered a master of the graphic novel form, returns in an autobiographical mode, in a book that lets vent the rage and fragility that are always just beneath the surface of his pristine drawings."
—New York Times, 100 Notable Books of 2020

"The Loneliness of the Long-Distance Cartoonist is another laugh-out-loud book with self-worth issues. Here Tomine looks back at his outwardly successful career as a cartoonist via anecdotes that take in deserted book signings, mortifying radio spots and the perils of taking a cruise with Neil Gaiman, in a feast of self-deprecation." —The Guardian, Best of 2020

"Tomine's mortifying misadventures become funnier and more emotionally resonant in the latter part of this memoir, as professional success and a growing family find the anger and anxiety that ruled the author's early years transformed into an insightful and profound vulnerability." —Library Journal, Best Graphic Novels of 2020

"Tomine, who is perhaps the John Cheever of comics (in the way they both excavate the human heart), shows how our lives are less tidy than that common memoir arc."—Kerri Arsenault, Literary Hub

"[The Loneliness of the Long-Distance Cartoonist is] acutely, almost painfully funny—proving even a literary comics genius can still deliver great laughs—elevated by a moving, philosophical close."
—Publishers Weekly, Best Books of 2020

"In this heartfelt and beautifully crafted work, Adrian Tomine presents the most honest and insightful portrait you will ever see of an industry that I can no longer bear to be associated with."—Alan Moore, author of Jerusalem

"A wonderful book about feeling morbidly self-conscious while also longing to connect with other people, even though it doesn't always—i.e. usually doesn't—work out the way one wants it to. It perfectly captures what it's like to be a cartoonist, and also what it's like to be a person."—Roz Chast, author of Can't We Talk About Something More Pleasant?

"A painfully honest and often hilarious view behind the curtain of the 'glamorous' life of a cartoonist. Tomine draws on life's stresses, embarrassments, and achievements as he goes through an evolution of self-awareness. A must-read for Tomine fans and all aspiring cartoonists."—Richard McGuire, author of Here

"I couldn't put this book down. Tomine's vulnerability and willingness to share the cringiest moments of his life (ranging from juicy to uproarious to deeply healing) are a reminder to be braver, because what have you got to lose?"—Lisa Hanawalt, author of Coyote Doggirl

"A charming, occasionally maddening ledger of our profession's unrelenting parade of indignities."—Michael DeForge, author of Leaving Richard's Valley

"In this deeply self-aware, darkly funny memoir, Tomine recounts the highlights of his career through a series of cringe-worthy encounters, and readers hardly need to be a world-famous cartoonist to relate."—Malaka Gharib, author of I Was Their American Dream

"Tomine explores with the precise touch of a dentist gazing perpetually into a mouth, doing the crucial work of the quotidian. It's lonely work, indeed, but by dwelling for so long and so thoroughly in the loneliness of his art, Tomine brings us close, terribly close, to the halitosis of being human, to the emotions we might prefer to keep at a distance." —Viet Thanh Nguyen, The Paris Review

"This merciless memoir delivers laughter with a wince, to the point of tears."
—Publishers Weekly, Starred Review

"Subtle, provocative, and sharply drawn."—Kirkus, Starred Review

"A hilarious, frequently cringe-inducing masterpiece from a fearless artist at the height of his powers."—Library Journal, Starred Review

"In this exquisitely rendered, prodigiously articulated work, Tomine proves again why he's still that "famous cartoonist."—Booklist, Starred Review
Drawn and Quarterly, 9781770463950, 168pp.
Publication Date: July 21, 2020
About the Author
Adrian Tomine is the author of Scenes from an Impending Marriage, Shortcomings, Summer Blonde, Sleepwalk, 32 Stories, and the comic book series Optic Nerve. He is also an illustrator for The New Yorker, Esquire, and Rolling Stone, and his stories have appeared in The Best American Nonrequired Reading and An Anthology of Graphic Fiction, Cartoons, and True Stories. A graduate of the University of California at Berkeley, Tomine lives in Brooklyn, New York.