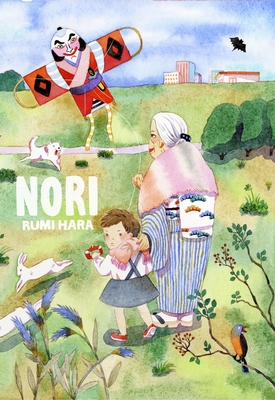 Nori
Paperback

* Individual store prices may vary.
Description
A dulcet debut capturing a touching relationship between the spirited Nori and her grandma

Ignatz nominated and MoCCA Arts Festival Award-winning cartoonist Rumi Hara invites you to visit her magical world. Nori (short for Noriko) is a spirited three-year-old girl who lives with her parents and grandmother in the suburbs of Osaka during the 1980s. While both parents work full-time, her grandmother is Nori's caregiver and companion—forever following after Nori as the three year old dashes off on fantastical adventures.

One day Nori runs off to be met by an army of bats—the symbol of happiness. Soon after, she is at school chasing a missing rabbit while performing as a moon in the school play, touching on the myth of the Moon Rabbit. A ditch by the side of the road opens a world of kids, crawfish, and beetles, not to mention the golden frog and albino salamander. That night, her grandma takes to the Bon Odori festival to dance with her ancestors. When Nori wins a trip to Hawaii, she finds herself swimming with a sea turtle, though she doesn't know how to swim.

In mesmerizing short stories of black and white artwork with alternating spot color, Hara draws on East Asian folklore and Japanese culture to create an enchanting milieu that Nori tries to make sense of, wrestling between the reality of what she sees and the legends her grandma shares with her.
Praise For Nori…
"The relationship between mischievous- four-year old Nori and her grandmother shines through these pages in rich evocative detail, full of humor, depth of feeling, and a sense of family history and tradition. Beautifully drawn locations in Japan and Hawaii immerse the reader in their world, populated by grinning bats, leaping rabbits, a taste of Mochi--and the wonder and curiosity of childhood."—Glynnis Fawkes

"Rumi Hara's, Nori is vivid and lush with subtle magic and a calm sense of wonder, drawing readers into a masterfully drawn world where the presence of mystical nature spirits are as palpable as the splash of frogs jumping through water and the oily sheen of hot mochi wrapped in salted seaweed. In following Nori's whimsical adventures, I am reminded of my own long-forgotten experiences of childhood wonder and magic."—Yumi Sakugawa, author of The Little Book of Life Hacks: How to Make Your Life Happier, Healthier and More Beautiful

"Unflinching and playful. Timeless cartooning with a fresh voice."—Matthew Forsythe

"Magically illustrated, the collection combines Japanese traditions with modern life through the eyes of the curious and adorable Nori."—Ms. Magazine

"Dreamy and intoxicating... Nori races through her neighborhood—chasing rabbits, befriending bats, tussling with classmates, keeping the grown-ups on their toes—and the scenery is vibrant and immersive, so detailed it's easy to get lost in them yourself. In a time when exploration might be next to impossible, living vicariously through someone else's is the next best thing—and Nori is the perfect vehicle."
—Arianna Rebolini, Buzzfeed Books

"This sweet peek into the world of a four-year-old will charm readers of all ages." —School Library Journal

Winner of the silver MoCCA Arts Festival Award of Excellence (2018); nominee for the 2018 Ignatz Awards for Outstanding Series and Promising New Talent.
Drawn and Quarterly, 9781770463974, 228pp.
Publication Date: May 12, 2020
About the Author
Rumi Hara was born in Kyoto, Japan, and started printing her comics on a tiny home printer while working as a translator in Tokyo in 2010. After receiving an MFA in illustration from Savannah College of Art and Design, Rumi moved to New York in 2014, where she now lives and works as an illustrator and comics artist. Her comics series Nori was first self-published as minicomics and was nominated for an Ignatz Award in 2018.
or
Not Currently Available for Direct Purchase