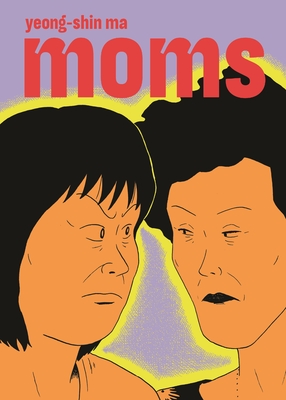 Moms
Paperback

* Individual store prices may vary.
Description
An outrageously funny book about middle-aged women that reexamines romance, lust, and gender norms

Lee Soyeon, Myeong-ok, and Yeonjeong are all mothers in their mid-fifties. And they've had it. They can no longer bear the dead weight of their partners or the endless grind of menial jobs where their bosses control everything, down to how much water they can drink. Although Lee Soyeon divorced her husband years ago after his gambling drove their family into bankruptcy, she finds herself in another tired and dishonest decade-long relationship with Jongseok, a slimy waiter at a nightclub. Meanwhile, Myeong-ok is having an illicit affair with a younger man, and Yeonjeong, whose husband suffers from erectile dysfunction, has her eye on an acquaintance from the gym. Bored with conventional romantic dalliances, these women embrace outrageous sexual adventures and mishaps, ending up in nightclubs, motels, and even the occasional back-alley brawl.

With this boisterous and darkly funny manhwa, Yeong-shin Ma defies the norms of the traditional Korean family narrative, offering instead the refreshingly honest and unfiltered story of a group of middle-aged moms who yearn for something more than what the mediocre men in their lives can provide. Despite their less-than-desirable jobs, salaries, husbands, and boyfriends, these women brazenly bulldoze their way through life with the sexual vulnerability and lust typically attributed to twenty-somethings.
Praise For Moms…
"[The characters'] greatest challenge, like people everywhere at every age, is loneliness—but even that can't stop Ma's fearsome mothers from living their best possible lives."
—Booklist, Starred Review

"Moms by Yeong-shin Ma... presents a very real perspective of middle-aged women often not seen... as Moms shows, these ladies experience excitement, dreams, and struggles that too often are overlooked."
—BlogCritics

"It's extremely relatable, because the character work is so strong. All their hopes and flaws keep the narrative running, and its power increases when we see how badly people can treat each other... D&Q keeps bringing treasures from around the world to Canada. Long may that continue."
—The Toronto Star

"Seeming at first unconventional, one gets the sense that the women in Moms are not necessarily so; Ma simply affords them the type of interiority not usually granted to their demographic, while providing a warts-and-all look at long-term female friendships."
—Winnipeg Free Press

"Offering a unique account of contemporary Korea and the world from the perspective of women who might otherwise be overlooked, [Moms] would be a solid addition to any adult collection."
—Library Journal

"Yeong-shin Ma writes with great sympathy of the struggles of these middle-aged women, portrayed as humans and not caricatures." —Asian Review of Books

Drawn and Quarterly, 9781770464001, 372pp.
Publication Date: August 4, 2020
About the Author
Yeong-shin Ma was born in Seoul, South Korea, in 1982. At twenty-five years old, after completing his military service, he started drawing comics as part of an indie group. Ma began publishing webtoons in 2015. Moms is his first book to be published in English.