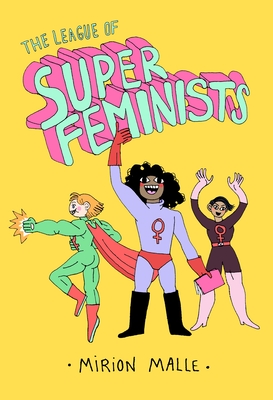 The League of Super Feminists
Hardcover

* Individual store prices may vary.
Description
This primer on feminism and media literacy teaches young readers why it matters

The League of Super Feminists is an energetic and fierce comic for tweens and younger teens. Cartoonist Mirion Malle guides readers through some of the central tenets of feminism and media literacy including consent, intersectionality, privilege, body image, inclusivity and more; all demystified in the form of a witty, down-to-earth dialogue that encourages questioning the stories we're told about identity. Malle's insightful and humorous comics transport lofty concepts from the ivory tower to the eternally safer space of open discussion. Making reference to the Bechdel test in film and Peggy McIntosh's dissection of white privilege through the metaphor of the "invisible knapsack," The League of Super Feminists is an asset to the classroom, library, and household alike.

Knights and princesses present problems associated with consent; superheroes reveal problematic stereotypes associated with gender; and grumpy onlookers show just how insidious cat-calling culture can be. No matter how women dress, Malle explains, there seems to always be someone ready to call it out. The League of Super Feminists articulates with both poise and clarity how unconscious biases and problematic thought processes can have tragic results.

Why does feminism matter? Are feminists man-haters? How do race and feminism intersect? Malle answers these questions for young readers, in a comic that is as playful and hilarious as it is necessary.
Praise For The League of Super Feminists…
"Malle distills complicated feminist theory into easy-to-understand explanations without ever talking down to readers."—Quill and Quire

"The year's most important child-friendly comic about feminist theory... The League Of Super Feminists is a sharp, smart and funny tour through the ideas that underpin feminism... [that] makes decades of sociological theory not merely accessible, but compelling, which Malle ascribes to her desire to get around the loftier language of university departments, and convey instead the simple truths of lived experience."
—The Irish Times

"What I appreciate most is that the way Mirion explains feminism is that it's like being a good friend and a kind member of society; that feminism is respect for women."—Youth Services Book Review

"Using a Socratic question-and-answer format, women dressed as superheroes speak, informally, with wit and brevity, to a young audience about consent, different forms of privilege and misogyny. It arms readers with tools to analyze culture..."—The Globe & Mail

"In The League of Super Feminists, Mirioin Malle discusses representation in media in regards to what woman are seeing about themselves, breaking down the potential harm of seeing the same stories over and over."
—Newmarket Today

"A clear, smart, and direct effort to talk about what feminism is in a way that even small folks can understand."
—The Comics Journal

"Change is coming. And a lot of people in our society may feel that it's flipping their world upside down but this change is necessary and Mirion Malle has captured just the right balance in her fun and highly informative new book."—Popzara

"Malle gets the conversation started and guides readers through some of the central tenets of feminism in a clear, engaging way that gives readers the tools needed to do their own critical thinking."—Books 4 Your Kids

"The League of Super Feminists serves as a veritable primer on feminism itself... [It] does well as an introduction for anyone onto the many topics discussed or even a textbook in a course on understanding."
—BlogCritics

"The League of Super Feminists is the sort of book one wishes could be put in every reader's hands. After all, we could all use refreshers on a lot of this stuff, and Malle argues in such a straightforward, commonsensical manner that when you read about the importance of using inclusive language or representation in media, for example, it makes one wonder how anyone can fight against such feminist ideas in the first place, given that they seem less "feminist" than simply 'right'…"—School Library Journal

"Malle does an exemplary job encouraging readers to question norms and consider what society would look like if everyone, regardless of gender, race, and ability, were treated equally... Readers of The League of Super Feminists will be well-armed with the questions and tools necessary to challenge and change the world for the better!"—Canadian Review of Materials
Drawn and Quarterly, 9781770464025, 60pp.
Publication Date: October 13, 2020
About the Author
Mirion Malle is a French cartoonist and illustrator who lives in Montreal. She studied comics at the École Superieure des Arts Saint-Luc in Brussels before pursuing a Masters degree in sociology specializing in gender and feminist studies, via Paris Diderot and the Université du Québec à Montréal. Malle has published three books. The League of Super Feminists was her first book to be translated into English and was nominated for the 2020 Prix Jeunesse at the Angoulême International Comics Festival.
or
Not Currently Available for Direct Purchase