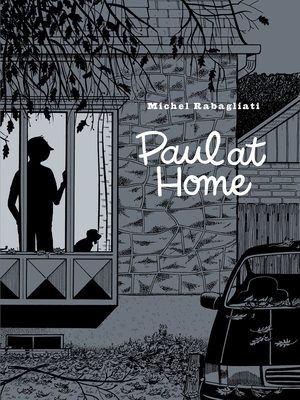 Paul at Home
Paperback

* Individual store prices may vary.
Description
An affecting exploration of the ways our roles as parents and children change over a lifetime

Paul at Home is Quebecois superstar Michel Rabagliati's most personal book yet, a riveting, emotional, and frequently amusing take on the losses and loneliness of being closer to retirement than to university. Paul is in his mid-50s, a successful cartoonist with an achy shoulder living in a house he once shared with his wife and daughter. The backyard is unkempt, full of weeds. A swing set sits idle, slowly rusting beside a half-dead tree Paul planted with his then-five-year-old daughter. The room that belonged to his now-18-year-old daughter is mostly unused, especially once she decides to move overseas.

Left unspoken but lingering in the background is Paul's divorce after a three decade relationship with his high school sweetheart. Amid all of this emotional turmoil, Paul visits his ailing mother in the final months of her life. Like Paul, she divorced in mid-life after a long marriage. She spent most of her remaining years alone or in unfulfilling relationships, which Paul implicitly fears might happen to him. Online dating only seems to make the world worse.

Rabagliati doesn't shy away from these intimate issues, approaching them as much with self-deprecating humor as with sorrow or pain. Characterized by both a deep insight and a willingness to poke fun at life's shortcomings, Paul at Home is a playful and poetic rumination on loss and the sometimes unsettling changes that come with middle age.
Praise For Paul at Home…
"A story of loneliness and loss, it could hardly have arrived at a better moment." —The Guardian

"After 2020 is finally consigned to the dustbin of history, Paul at Home may serve to remind us of the resilience of people to transcend loneliness, alienation and uncertainty, and emerge - as the book does - with a sense of renewal and connection." —Forbes

"[Rabagliati has] never been quite as vulnerable as he is in Paul at Home. The newest Paul book finds our hero in 2012, divorced, losing touch with his independent daughter, puttering around his house. He's coping with sleep problems, depression, and his mother's terminal illness. The book is a moving and blunt portrait of late middle age in the 21st century, and things aren't great." —Slate

"It's a testament to Rabagliati's abilities as both writer and cartoonist that a story with such weighty themes proves to be as poetic and light as it does." —The Hollywood Reporter

"Rabagliati draws the exurban Quebec setting with panache, lavishing attention on vintage architecture and signage, and his coolly abstracted characters have an art deco gloss." —Publishers Weekly

"A remarkable achievement." —The Comics Journal

"The latest instalment in Rabagliati's beloved series of graphic novels finds his character in a reclusive mood that mirrors the times." —Montreal Gazette

"I feel like I say this every time Rabagliati comes out with a new Paul book, but this one is the best yet. He just keeps topping himself." —London Free Press

"Rabagliati knows how to create a character that most everyone will find relatable, and his greatly detailed illustrations are equally absorbing, while also having a retro, newspaper-funnies feel." —Booklist

"I loved every mundane, masterfully executed page." —Boing Boing

"For a book that could easily become a series of complaints about loneliness, aging, and a fading career, Paul at Home is much more: it's an exacting chronicle of the everyday, a work of big-hearted humor, and a memoir that's as much about the potential of the future as it is about the bittersweetness of the past."
—Believer Magazine

"Treat yourself to a brilliantly captured view of one man's mundane life and his persistence therein. See if its all-too-human situations don't spark a bit of recognition. See if maybe it's a welcome, time-anchoring night heron alongside your own river of consciousness." —Austin Chronicle
Drawn and Quarterly, 9781770464148, 204pp.
Publication Date: November 17, 2020
About the Author
Michel Rabagliati was born in 1961 in Montreal. Since 1999, he has become a key figure in Quebec and beyond for his graphic novels starring the titular character Paul against the backdrop of Montreal. His sixth book in the series, Paul à Québec, earned the Prix du Public at the Angouleme International Comics Festival and was also made into a feature film. Translated into six languages, Rabagliati's comics have won two Doug Wright Awards for Best Book and a Harvey Award. In 2017, Rabagliati was made a Compagnon des arts et des lettres du Québec, a distinction awarded in recognition of his contributions to the vitality and influence of Quebec culture.