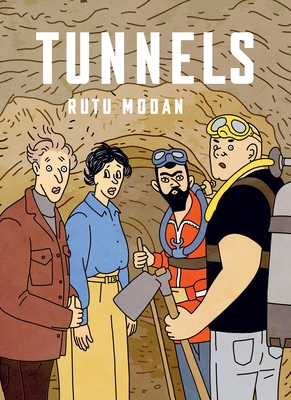 Tunnels
Hardcover

* Individual store prices may vary.
Description
A race for the Ark of the Covenant finds an exploration into the ethics and world of the international antiquity trade

When a great antiquities collector is forced to donate his entire collection to the Hebrew University in Jerusalem, Nili Broshi sees her last chance to finish an archaeological expedition begun decades earlier—a dig that could possibly yield the most important religious artifact in the Middle East. Motivated by the desire to reinstate her father's legacy as a great archaeologist after he was marginalized by his rival, Nili enlists a ragtag crew—a religious nationalist and his band of hilltop youths, her traitorous brother, and her childhood Palestinian friend, now an archaeological smuggler. As Nili's father slips deeper into dementia, warring factions close in on and fight over the Ark of the Covenant!

Backed by extensive research into this real-world treasure hunt, Rutu Modan sets her affecting novel at the center of a political crisis. She posits that the history of biblical Israel lies in one of the most disputed regions in the world, occupied by Israel and contested by Palestine. Often in direct competition, Palestinians and Israelis dig alongside one another, hoping to find the sacred artifact believed to be a conduit to God. Two time Eisner Award winner Rutu Modan's third graphic novel, Tunnels, is her deepest and wildest yet. Potent and funny, Modan reveals the Middle East as no westerner could.

Ishai Mishory is a longtime New York City—and newly Bay Area—based translator and sometimes illustrator. He is currently conducting research for a PhD dissertation on 16th century Italian printing.
Praise For Tunnels…
"Complex and thrilling… If Modan has given us a tightly plotted adventure story, she has also delivered a brilliantly daring satire. Her gaze spares no one: even Nili (especially Nili) is a pain in the backside."
—Rachel Cooke, The Guardian

"[Tunnels] is a sprawling, madcap fiction about archaeology, antiquities and profound issues of boundaries and ethics."—New York Times Best Graphic Novels of 2021

"Affecting… brightly colored and perfectly paced, [Modan's three graphic novels] have established her as her country's most renowned comics artist."—Gal Beckerman, The New York Times

"Biting, bracing, and bold in both its satire and ambition, Tunnels is a book that works on multiple levels, and is successful on every single one."—Variety Best Comics of 2021

"Modan has a gift for combining drama and deft characterization to get to the human heart of issues facing contemporary Israel."—Forbes Best Graphic Novels of 2021

"When so many people—Israelis and Palestinians—want a piece of the land, things are bound to end with an explosion. Yet despite underlining petty and self-interested motives on all sides, [the book] portrays its characters in a sympathetic light: Can readers really quarrel with a woman's quest to reclaim her father's heritage, or over a Palestinian's negative attitude toward Israelis after witnessing the treatment of his people by the IDF?...Tunnels is a great triumph."
—Tablet

"Modan is a genius and I hope lots of people will read this story..."—Rachel Cooke, The Guardian Best Graphic Novels of 2021

"An adventure story that dives deep into the world of Israeli archaeology, gets its hands dirty digging for lost treasures, plunges into the intrigues and rivalries of academia, and collides head-on with the Israeli-Palestinian conflict."
—Haaretz

"Rutu Modan has written and drawn a true adventure story for the modern age, where a classic quest for precious antiquities is complicated by human relationships and real-world politics. Vivid characters vie for control, events take unexpectedly hilarious turns, farce folds in on itself, and a cow jumps over the moon. The most fun I've had reading a graphic novel in years."
—Jason Lutes, Cartoonist of Berlin

"Through exuberant wit, wisdom and genuinely cinematic verve, Modan's Middle-Eastern intrigue grabs us from the very first panel and never lets go. A colorful cast of passionate, exasperating and eccentric characters, all flawed yet somehow loveable, enliven Tunnels' riotous plot. With constantly surprising twists and turns, Modan packs a great deal into this slyly subversive, highly entertaining story—a rancorous family, the mis/uses of archaeology and the mythical past, messianic zealots, human greed, and the tempest of current Israeli-Palestinian relations—and yet it all brilliantly succeeds, with dollops of rich human comedy leavening her very serious themes. The most deliriously inventive and daring graphic novel in recent memory, Tunnels triumphs as the perfect adventure story for thinking adults."
—Ranen Omer-Sherman, Professor of English and JHFE Endowed Chair in Judaic Studies at the University of Louisville

"Tunnels is an incisive dig into contemporary Israeli life. It's rich with human foibles, critical of how both religion and archeological claims shape life along the separation wall, and also an adventure story. Rutu Modan is a gifted storyteller, full of life and humour."—Nicole Krauss, author of To Be a Man

"The very best kind of satire… Modan embraces political absurdity, subverting ridiculous aspects of faith and fanaticism while never devolving to mockery."—Publishers Weekly, Starred Review

"Israeli cartoonist Rutu Modan's satirical look at the Israeli-Palestinian conflict strikes the right balance of serious and silly."—Alma

"[Tunnels is] dysfunctional family standoff, subversive sociopolitical exposé, biting criticism of academia and—rather surprisingly—a rollicking comedy of countless errors."—Shelf Awareness

Drawn and Quarterly, 9781770464667, 284pp.
Publication Date: November 16, 2021
About the Author
Rutu Modan is an Illustrator, comics artist, and associate professor at the Bezalel Academy of Art & Design in Jerusalem. After publishing several comic strips in the Israeli media, Modan co-founded the Actus Comics group. In 2008 her book Exit Wounds won the Eisner Award. Her 2013 graphic novel The Property won the Eisner Award for Best Graphic Novel, the Special Jury Prize in the International Comics Festival in Angouleme, France, and the first prize for best book of the year in Lucca Comics & Games Festival, Italy. Modan's comics and children's books have been translated into 15 languages. In 2013 she cofounded an independent publishing house specialising in comics for young children.