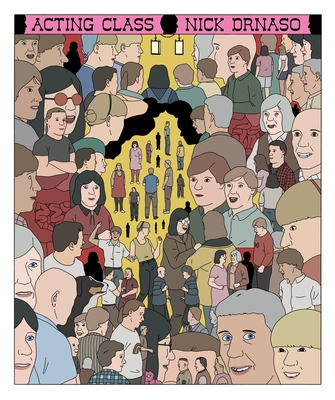 Acting Class
Hardcover

* Individual store prices may vary.
Description
A brilliant and suspenseful follow-up to the Booker-nominated graphic novel Sabrina.

"Every single person has something unique to them which is impossible to re-create, without exception." —John Smith, acting coach

From the acclaimed author of Sabrina, Nick Drnaso's Acting Class creates a tapestry of disconnect, distrust, and manipulation. Ten strangers are brought together under the tutelage of John Smith, a mysterious and morally questionable leader. The group of social misfits and restless searchers have one thing in common: they are out of step with their surroundings and desperate for change.

A husband and wife, four years into their marriage and simmering in boredom. A single mother, her young son showing disturbing signs of mental instability. A peculiar woman with few if any friends and only her menial job keeping her grounded. A figure model, comfortable in his body and ready for a creative challenge. A worried grandmother and her adult granddaughter; a hulking laborer and gym nut; a physical therapist; an ex-con.

With thrumming unease, the class sinks deeper into their lessons as the process demands increasing devotion. When the line between real life and imagination begins to blur, the group's deepest fears and desires are laid bare. Exploring the tension between who we are and how we present, Drnaso cracks open his characters' masks and takes us through an unsettling American journey.
Praise For Acting Class…
"Nick Drnaso uses a deadpan, quick-cut drawing style to explore loneliness, paranoia, and the subjectivity of "truth." It's all very mysterious, kind of creepy, and extremely suspenseful."—Elena Goukassian, Vulture

"Drnaso again distills quite brilliantly aspects of 21st-century anomie and alienation."—Rachel Cooke, The Guardian

"A wholly unsettling masterclass in disquiet."—Nick Duerden, The Independent

"This fascinating tale about an amateur acting group discovering the tenuous line between artifice and reality kept me reading well into the night. It is at once a commentary on the power of art to reshape us, and on the dangers of conforming. Acting Class is uncanny, wholly original, and deeply satisfying."—Esi Edugyan, Washington Black

"Eerily domestic."—Shelby Shaw, ArtForum

"Masterfully told, artfully layered, and beautifully rendered, Acting Class shows again that Nick Drnaso is attuned to a particular American ennui and eeriness like no other artist currently at work. He is a unique talent."—Kevin Barry, Night Boat to Tangier

"Inarguably surprising and disturbing… [Drnaso's] careful building of suspense and overpoweringly eerie mood makes the long build worthwhile well before the final and powerfully cinematic twist."—Chris Barsanti, Minneapolis Star Tribune

"An incisive exploration of alienation that is increasingly unsettling as it builds to a shocking conclusion."—Tom Batten, Library Journal, Starred Review

"A provocative portrait of the search for connection and meaning in modern life."—Publishers Weekly
Drawn and Quarterly, 9781770464926, 248pp.
Publication Date: August 16, 2022
About the Author
Nick Drnaso was born in 1989 in Palos Hills, Illinois. His debut, Beverly, received the Los Angeles Times Book Prize for Best Graphic Novel. His followup, the graphic novel Sabrina, was a New York Times Notable Book of 2018 and received nominations for the Booker Prize, the Eisner Award, the LD and LaVerne Harrell Clark Fiction Prize, the Orwell Prize for Political Fiction, and the New York Public Library's Young Lions Award. Sabrina has been published in fifteen countries. Drnaso lives in Chicago with his wife and their two cats.