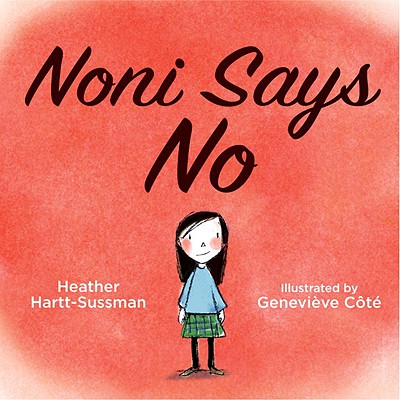 Noni Says No (Hardcover)
Tundra Books (NY), 9781770492332, 24pp.
Publication Date: February 8, 2011
Description
Noni can do many things: she can give her baby brother his bottle, she can help her mother in the kitchen, and she can even walk over to her friend Susie's house. But Noni just can t say no. When she was very small, it was easy saying no to everybody, but now that she has a best friend, she wants to please. Noni can t say no to her friend, even when it means she has to hand over a precious toy, or when it means agreeing to a hideous haircut, or even giving up her bed at a sleepover. But when Noni finally finds her voice, the consequences are not what she or the reader expects.
Heather Hartt-Sussman's story, complemented by the playful illustrations of Genevieve Cote, is a comforting exploration of friendship and of the importance of trusting one's own judgment. Many children (as well as many adults) will root for Noni as she learns that you can stand up for yourself and still be a good friend.
About the Author
HEATHER HARTT-SUSSMAN, born in Montreal, graduated from Brandeis University and attended the Sorbonne. She has been a copywriter for BCP in Montreal; a reporter for the Hollywood Reporter; editor-in-chief of international news for "TV Guide" in French Canada, where she also wrote the popular column Heather Hartt in Hollywood for "TV Guide"; and host of The Gossip Show on E! Entertainment Television. Noni Says No is her second book. Heather Hartt-Sussman lives in Toronto with her husband, sons Scotty and Jack, and the family dog.

GENEVIEVE COTE has illustrated a number of children s books, including The Lady of Shalott, by Tennyson, La petite rapporteuse de mots, by Danielle Simard, and her own What Elephant? and With you always, Little Monday. Her editorial art has appeared in "The New York Times," "The Wall Street Journal" and "l Actualite," among others. She graduated from Concordia University in 1987, and she was president of Quebec s Association des Illustrateurs from 1993-1995. Cote has won several honors, including the Elizabeth Mrazik-Cleaver Award and the Governor General s Award for Illustration. She lives in Montreal, Quebec."
Praise For Noni Says No…
Praise for Noni Says No, illustrated by Geneviève Côté:
"This book could generate good discussion about standing up for one's self and handling difficult relationships, including ways to establish and maintain friendships when everyone involved has a chance to react honestly and without fear."
—School Library Journal
 
"…Here is a fine book that explores early friendships from a new angle…. Young readers trying to figure out the challenges of friendship and teachers trying to shore up the timid will find a new friend in Noni. Gentle, like Noni herself."
—Kirkus Reviews
Advertisement