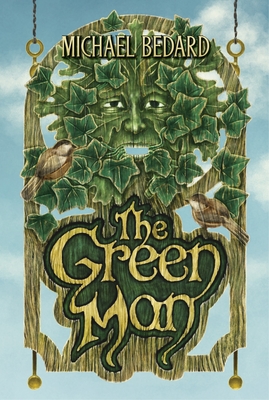 The Green Man
Hardcover

* Individual store prices may vary.
Other Editions of This Title:
Paperback (11/11/2014)
Description
Teenaged O – never call her Ophelia – is about to spend the summer with her aunt Emily. Emily is a poet and the owner of an antiquarian book store, The Green Man. A proud, independent woman, Emily's been made frail by a heart attack. O will be a help to her. Just how crucial that help will be unfolds as O first tackles Emily's badly neglected home, then the chaotic shop. But soon she discovers that there are mysteries and long-buried dark forces that she cannot sweep away, though they threaten to awaken once more. At once an exploration of poetry, a story of family relationships, and an intriguing mystery, The Green Man is Michael Bedard at his finest.

Praise For The Green Man…
"…Bedard provides a quietly compelling and satisfyingly atmospheric tale. With its shifting narrators, the tension builds slowly as readers catch glimpses of Emily's unsettling dreams, her mounting anxiety and the gradual revelation of her story…. The book is a successful and engaging mystery while also offering much more…. It is a subtle and complex tale, filled with magic and mysticism, poets and dreamers, and unbreakable family ties … it will linger in the minds of more introspective readers and provide them with a richly rewarding reading experience."
—Recommended, CM Magazine

"…Bedard takes full advantage of the genre's atmospheric creepiness and sepia-toned timelessness…. For more plot-hungry Goosebumps graduates, there are dark strangers, abandoned mansions, ghostly glowing, chilling coincidences, and otherworldly portals galore."
—Starred Review, Quill & Quire
 
"…this imaginative, gracefully written [story] makes an entertaining tale."
—The Horn Book
 
"…This atmospheric exploration of what it means to be a poet offers memorable corporal and incorporeal characters, a realistic intergenerational relationship and a deeply rooted mystery connecting past and present. Ideal for those with a penchant for magic, mystery and poetry."
—Kirkus Reviews

"The specter of an evil magician returning to destroy another life will lure readers into the novel's eerie core…. Mr. Bedard masterfully interlaces the real with the supernatural in these passages, evoking a sense of myriad magical possibilities."
—New York Journal of Books

"There is a mysterious magician, prophetic dreams, and a handsome stranger who may be more, and less, than he seems. Bedard writes with grace and wit, but also with deceptive ease…."
—School Library Journal

"Mystery, fantasy, romance, horror, and poetry come together in this classic outsider story with sometimes shocking twists and turns that reveal heartfelt connections…. [T]he action is fast, and the simple prose is pitch-perfect as tension builds to reveal that O 'dreamt the unimaginable and woke to find it real.'"
—Booklist
Tundra Books, 9781770492851, 320pp.
Publication Date: April 10, 2012
About the Author
Michael Bedard was born and raised in Toronto. His novels include Stained Glass, A Darker Magic, Painted Devil, and Redwork, which received the Governor General's Literary Award and the Canadian Library Association's Book of the Year Award for Children. He has also written several acclaimed picture books, including The Clay Ladies, which received the Toronto IODE Book Award. His biography, William Blake: The Gates of Paradise and his picture book Emily attest to his interest in poets and poetry.
or
Not Currently Available for Direct Purchase