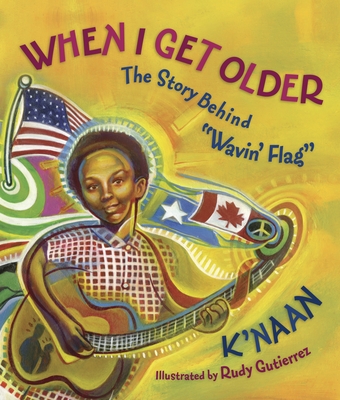 When I Get Older
The Story behind "Wavin' Flag"
Hardcover

* Individual store prices may vary.
Description
"Wavin'Flag" has become an international anthem. Its powerful words of hope have crossed generations and borders, and have made K'NAAN an international star.

In his first book for children, When I Get Older, Somali-Canadian poet, rapper, singer, and songwriter K'NAAN tells his own story. Born in Somalia, he grew up in Mogadishu. His grandfather was a renowned poet who passed on his love of words to his grandson. When the Somali Civil War began in 1991, K'NAAN was just thirteen. His mother made the difficult decision to move her family so that they could grow up in safety. First in New York and then in Toronto, K'NAAN faced many challenges.

Like so many other immigrants, he had to make a place for himself in a world of alien customs, clothes, and language. His road was a hard one: he lost many friends to violence. But K'NAAN's love of music, and his enormous talent, became a way for him to connect with his past, with his classmates, and eventually, to millions of people around the world. Not only does K'NAAN tell a story that will inspire and encourage young readers, but he provides a brief history of the Somalian conflict. The lyrics of "Wavin' Flag" are also included.

Born Keinan Abdi Warsame, K'NAAN first came to prominence when he performed a spoken word piece before the United Nations High Commissioner for Refugees in 1999. A member of the audience, the singer Youssou N'Dour, was so impressed that he asked K'NAAN to take part in an album and to tour with him.

Since then, K'NAAN has performed in more than 86 countries and has received many honors, including three Juno Awards and the BBC Radio 3 Award for World Music. During the Vancouver Olympics, he worked with other Canadian musicians and artists under the name Young Artists for Haiti to produce a charity version of "Wavin' Flag." The song was adapted again to become the FIFA World Cup theme song. There are now twenty-two versions of the song, which hit #1 in nineteen countries.
Praise For When I Get Older: The Story behind "Wavin' Flag"…
"There is an elegant simplicity in … K'naan's telling of his story. It is an immigrant story many, many Canadian children will know personally…. Rudy Gutierrez, whose work is sometimes described as 'musical', provides lively, flowing illustrations to complement K'naan's text. The emotional highs and lows of K'naan's tale are captured in Gutierrez's colour and composition…. And one last brilliant feature to this attractive book are the endpapers filled with images of countries' flags. Hopefully every child reading this book will find the waving flag of his or her homeland."
—Canadian Children's Book News

"Somali-Canadian musician K'naan's first children's book tells the inspirational story of [K'naan's] immigration to Canada…. K'naan uses accessible yet poetic language to draw in young readers, exploring his adjustment to Canada and how music kept him connected to his family. Gutierrez's artwork powerfully conveys a new immigrant's sense of alienation."
—ParentsCanada.com
Tundra Books, 9781770493025, 32pp.
Publication Date: September 13, 2012
About the Author
Winner of three Juno awards and recently named the Globe and Mail's Artist of the Year, singer/songwriter/rapper/hip hop artist/social activist and, now, children's book author, K'NAAN has a moving and inspiring personal story. K'NAAN (whose name means "traveler" in Somali) spent his childhood in Mogadishu surrounded by a loving family which included his aunt, one of Somalia's most famous singers, and his poet grandfather. When K'NAAN was thirteen, he and his family fled war-torn Somalia and immigrated to Toronto. His story is inspiring, and his struggles as a new immigrant will speak to many young North Americans.

Now in his thirties, K'NAAN has had huge success as a singer. He has won many awards, and there are now twenty-two versions of his song, "Wavin' Flag." He lives in LA where he is at work on his third album. His children's book is a tribute to growing up, and believing in the future, as he says: "When I get older, I will be stronger…"