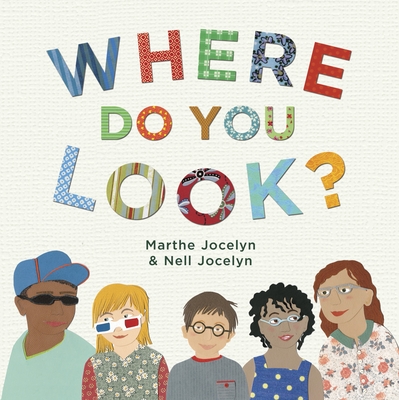 Where Do You Look? (Hardcover)
Tundra Books (NY), 9781770493766, 32pp.
Publication Date: February 12, 2013
Description
Where do you look for glasses? On a shelf? Or on a face?
In this playful exploration of homonyms, readers will discover the fun they can have with language. Is a wave at a beach? Or at a train station? Is a trunk in a garden? Or on an elephant? Kids will love the juxtaposition of words and meanings, and the detailed collage illustrations will have them coming back again and again.
The mother and daughter team of Marthe and Nell Jocelyn know where to look for a story: Not in a skyscraper, but in the dictionary.
About the Author
MARTHE JOCELYN has written or made pictures for nearly thirty books, including several concept and board books for toddlers. She was the 2009 recipient of the prestigious Vicky Metcalf Award for her body of work. For more information, visit her website: www.marthejocelyn.com

NELL JOCELYN is the daughter of Marthe Jocelyn and artist Tom Slaughter. She has recently earned a degree in photography from the University of the Arts in Philadelphia. "Where Do You Loo"k"?" is her second picture book.
Praise For Where Do You Look?…
"[A] celebration of homonyms…. attention to detail in each colourful collage is mesmerizing."
– The Waterloo Region Record

Praise for Ones and Twos:
"This delightful concept book brings visual literacy to the forefront, supported by a minimal text.... The simple descriptive verses ... are spot-on to reinforce images of numeracy, sorting, paring, common-object recognition, and the daily lives of young children.... The charming collages are the stars of the show and will inspire curiosity"
- Starred Review, School Library Journal

"... Jocelyn's imaginative collages help create a book rich in playful details, with a storyline told through pictures that provide depth to the concepts explored in the text.... Sophisticated and yet endearingly simple, Ones and Twos can be enjoyed by both very young children and the adults who read it with them."
- Starred Review, Quill & Quire
Advertisement