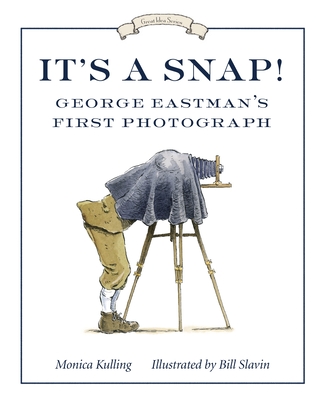 It's a Snap! (Paperback)
George Eastman's First Photograph (Great Idea Series)
Tundra Books, 9781770495135, 32pp.
Publication Date: August 6, 2013
* Individual store prices may vary.
Description
George Eastman had a new hobby: photography. The year was 1877, and photography was not as easy as you might think. It cost a lot and the equipment was bulky, but George was about to change all that. What he lacked in formal education, George more than made up for in ingenuity: he invented dry plates, film, and the Brownie camera! The rest is history.
     For anyone who has ever taken a picture or posed for one, It's a Snap! George Eastman's First Photograph, with its playful, informative text and lively illustrations, is a splendid introduction to biography, to photography, and to the amazing man who had so much to do with putting picture-taking within reach of us all.
About the Author
Born in Vancouver, British Columbia, Monica Kulling is a poet who has published many books for children, including picture books, adaptations of classic novels, and biographies. Known for introducing biography to children who are just learning to read, she has written about Harriet Tubman, Houdini, Eleanor Roosevelt, and Amelia Earhart, among others. Her book It's a Snap! George Eastman's First Photograph, illustrated by Bill Slavin, was the first in Tundra's Great Idea Series, followed by All Aboard! Elijah McCoy's Steam Engine and In the Bag! Margaret Knight Wraps It Up. Monica Kulling is also the author of the hilarious Merci Mister Dash! Visit her website at www.monicakulling.ca. The author lives in Toronto, Canada.

Bill Slavin has illustrated over eighty books for children, including The Big Book of Canada by Christopher Moore, The Library Book by Maureen Sawa, It's a Snap! George Eastman's First Photograph and All Aboard! Elijah McCoy's Steam Engine by Monica Kulling. Among his many honors, he has won the Amelia Frances Howard-Gibbon Illustrator's Award, the Blue Spruce Award, and the Zena Sutherland Award for Children's Literature. Bill lives near Millbrook, Ontario.
Praise For It's a Snap!: George Eastman's First Photograph (Great Idea Series)…
Praise for It's a Snap!

"Monica Kulling's charming It's a Snap! ... tells Eastman's story with panache and Bill Slavin's entertaining pen-and-ink and watercolor illustrations push the humor up a notch. This is terrific storytelling...." -School Library Journal

"Cameras were once huge and bulky. Then along came George Eastman, who put photography within reach of us all. Based on a true (and fascinating) story." - Scholastic Parent & Child

"Monica Kulling and Bill Slavin offer a unique look at the interesting life and many accomplishments of George Eastman.... This book is a great way to introduce your children to the wonders of photography." - Shutterbug Magazine

"...accessible picture book biography... The strong narrative is peppered with snappy dialogue. Bill Slavin's pen, ink and watercolour illustrations are equally engaging.... This first book in the Great Idea Series is a picture-perfect introduction to biographies for beginning readers." - Excellent, Resource Links