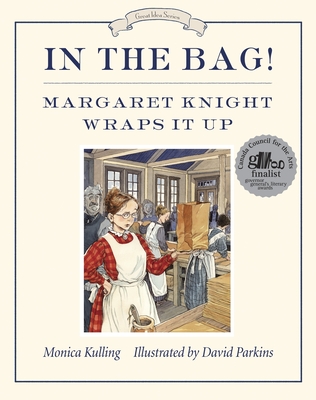 In the Bag! (Paperback)
Margaret Knight Wraps It Up (Great Idea Series)
Tundra Books, 9781770495159, 32pp.
Publication Date: August 6, 2013
* Individual store prices may vary.
Description
Tundra's Great Idea Series are early-reader biographies. The third book in the series introduces the fascinating Margaret Knight. Known as Mattie, she was different from most American girls living in 1850. She loved to make things with wood and made the best kites and sleds in town. Her father died when she was only three and by the time she was twelve she was working at the local cotton mill, alongside her two older brothers. One day she saw a worker get injured by a shuttle which had come loose from the giant loom, and the accident inspired her to invent a stop-motion device. It was to be the first of her many inventions. Margaret devoted her life to inventing, and is best known for the clever, practical, paper bag. When she died in 1914 she had ninety inventions to her name and over twenty patents, astounding accomplishments for a woman of her day. Monica Kulling deftly uses easy-to-read language and lots of dialogue to bring an amazing, inspiring woman to life.
About the Author
Monica Kulling was born in Vancouver, British Columbia. A poet, she has also published many books for children. Best known for her clear and engaging biographies, she has tackled subjects ranging from Harriet Tubman and Eleanor Roosevelt to Harry Houdini. Her book It's A Snap! George Eastman's First Photograph, illustrated by Bill Slavin, was the first in Tundra's Great Idea Series. Monica Kulling lives in Toronto. The author lives in Toronto, Ontario.

Award-winning artist David Parkins has illustrated more than fifty books for children. He began his career at Dyfed College of Art in Wales, where he studied wildlife illustration. From there, he attended the Lincoln College of Art. Upon graduation, he became a freelance illustrator who spent many years drawing for the British children's comic The Beano and producing illustrations for several educational publishers. David Parkins is the illustrator of the critically acclaimed Clip-Clop by Eleanor Koldofsky.
Praise For In the Bag!: Margaret Knight Wraps It Up (Great Idea Series)…
Praise for In the Bag!

"...In clean, straightforward prose, Kulling explains how Knight's interest in and knack for machines was present even at a young age.... Paired with Parkins's detailed and handsome pen-and-ink illustrations, the book focuses on Knight's invention of a paper bag-manufacturing machine and her legal fight to protect her creation after her idea was stolen." - Publishers Weekly

"...a delightful picture book biography of a little known inspiring woman.... I love stories about smart and determined young women and Kulling's lively text tells an inspiring story about this determined woman who 'never gave up without a fight.' David Parkins' charming illustrations are filled with carefully drawn period details and engaging humor.... Don't miss this really excellent book that opens the door to a multitude of curricular uses." - Bookends, a Booklist Blog

"This is the wonderful story of an early female inventor. Margaret Knight began inventing at the age of 12, when she was working in a cotton mill and created a device that made looms safer. But her most famous invention is one we're all familiar with - she created a machine that made flat-bottomed paper bags." - Ten Great Science Books for Kids, Smithsonia.com