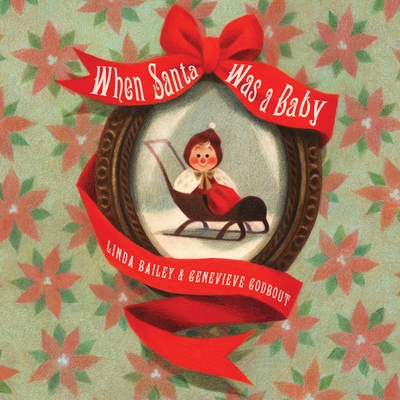 When Santa Was a Baby
Hardcover

* Individual store prices may vary.
Description
Santa's parents think their little one is absolutely wonderful, even though he has a booming voice instead of a baby's gurgle, loves to stand in front of the refrigerator, gives his birthday presents away, trains his hamsters to pull a matchbox sleigh ... and has an unusual interest in chimneys. The adorably funny portrait of an oddball kid who fulfills his destiny - and two very proud parents.
Praise For When Santa Was a Baby…
SELECTION - Today's Parent 52 Jolly Christmas Books for Kids

PRAISE FOR When Santa Was a Baby:

"He's an unusual baby: a booming voice, an interest in chimneys, a penchant for standing naked in front of the open refrigerator, enjoying the chill. Later, on Christmas, he rewraps his gifts and gives them to other children. His puzzled but besotted parents shower him with praise and predictions of future greatness. With retro-esque art featuring people whose giant black eyes look ever so slightly crazed, it's a sweet, gently satirical answer to the eternal question, How did Santa become Santa?" --New York Times Book Review

"Delightfully illustrated, this will become a family favorite." --Yakima Herald-Republic

"Simple illustrations with white backgrounds use textured surfaces and blurred edges that provide a nostalgic feel of remembered childhood. . . . There have been several recent stories about Santa's origins, but this one is the shortest and simplest, accessible to the youngest of Santa's fans." --Kirkus Reviews

"[A] clever take on the Santa myth that develops him as a character with his own thoughts and motivations. . . . Godbout's cozy artwork gives the book the feel of a classic while also offering some cheeky moments – as when a young Santa stands naked in front of an open fridge, trying to cool down." --Starred Review, Publishers Weekly

"A fond, reassuring look at the eccentric childhood of a much-beloved holiday figure." --School Library Journal

"Warm, textured pastel and colored-pencil illustrations on generous double-page spreads enrich this gentle, humorous, love-suffused tale." --Horn Book Magazine

"Warmth and softness abound, with each character sporting rosy round cheeks and button-black eyes. The art evokes a vintage style that further strengthens and supports the book's nostalgic appeal. When Santa Was a Baby will make a wonderful addition to any holiday-book collection. Sure to spread joy to readers of all ages year after year, much like the jolly old man in red himself." --Quill & Quire

Tundra Books, 9781770495562, 32pp.
Publication Date: October 13, 2015
About the Author
Linda Bailey is the author of more than two dozen books for children, including the Stevie Diamond mystery series, the Good Times Travel Agency graphic novels, and an eclectic assortment of picture books including If You Happen to Have a Dinosaur and the acclaimed Stanley's Party. She has won awards across North America such as the California Young Readers' Medal, the Georgia Storybook Award, the Ontario Blue Spruce and Silver Birch Awards, the Oregon SMART Award and the Arthur Ellis Award from the Crime Writers of Canada. Born in Winnipeg, Linda has now traveled around the world, and so have her books. She has two grown daughters, Lia and Tess, and lives in Vancouver within strolling distance of the sea.

Born and raised in Quebec, Geneviève Godbout studied traditional animation in Montreal and at the prestigious school of "Gobelins" in Paris. She is the illustrator of a number of books for children including Joseph Phipps (Enchanted Lion). Some of her clients include The Walt Disney Company, Flammarion, Bayard, les editions Milan, and La Pastèque. She also works for clothing designers like Nadinoo and Mrs. Pomeranz creating illustrations and prints for their collections. Visit Geneviève's blog: http://rose-a-petits-pois.blogspot.com/
or
Not Currently Available for Direct Purchase