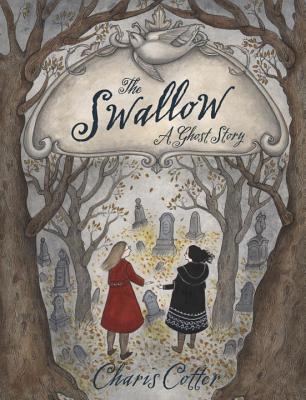 The Swallow
A Ghost Story
Hardcover

* Individual store prices may vary.
Description
 In 1960s Toronto, two girls retreat to their attics to escape the loneliness and isolation of their lives. Polly lives in a house bursting at the seams with people, while Rose is often left alone by her busy parents. Polly is a down-to-earth dreamer with a wild imagination and an obsession with ghosts; Rose is a quiet, ethereal waif with a sharp tongue. Despite their differences, both girls spend their days feeling invisible and seek solace in books and the cozy confines of their respective attics. But soon they discover they aren't alone--they're actually neighbors, sharing a wall. They develop an unlikely friendship, and Polly is ecstatic to learn that Rose can actually see and talk to ghosts. Maybe she will finally see one too! But is there more to Rose than it seems? Why does no one ever talk to her? And why does she look so... ghostly? When the girls find a tombstone with Rose's name on it in the cemetery and encounter an angry spirit in her house who seems intent on hurting Polly, they have to unravel the mystery of Rose and her strange family... before it's too late.
Praise For The Swallow: A Ghost Story…
Selected, amazon.ca's list of Best Books of September for Children and Teens, 2014
Selected, Quill & Quire's list of Kidlit Books of the Year, 2014


"Spooky tension, friendship and compassion permeate this exquisitely plotted middle-grade ghost story .... the story structure weaves its way in and out—riveting and tumbling with tension but never obvious, leaving the readers wondering if anything is really as it seems .... readers will seesaw between chills and snorts of laughter .... Middle-grade storytelling at its very best—extraordinary." - Starred Review, Kirkus Reviews


"The novel alternates between Polly's and Rose's first-person points of view, and Cotter ably creates their two distinct voices, each of which is appealing in its own way .... The Swallow is never heavy-handed, and, best of all, it's genuinely spooky .... Like all the best ghost stories, The Swallow tells us more about the living than the dead. It is a fantastic addition to Toronto literature, with all the makings of a classic." - Starred Review, Quill & Quire


"Set in 1960s Toronto, this title evokes an era that seems timeless .... readers seeking a good chill won't mind. An additional purchase where middle grade ghost stories are popular." - School Library Journal


"An unusual ghost story with a revelation that readers will long remember." - Booklist

Tundra Books, 9781770495913, 320pp.
Publication Date: September 9, 2014
About the Author
Charis Cotter grew up in downtown Toronto beside a cemetery and developed an early love of reading and acting at her local library, where she appeared in plays. She studied English in university and went to drama school in London, England. Cotter's series of biographies for children have received critical acclaim and her book, Toronto between Wars: Life in the City 1919-1939, won the Heritage Toronto Award of Excellence in 2005. Cotter has toured Canada from coast to coast, engaging children with her lively school presentations that feature games, storytelling and her entertaining alter egos: Queen Elizabeth II and the Scottish Silky Ghost.

She lives in a particularly haunted part of Newfoundland, where she has been working with children to publish their own books of traditional local ghost stories. The author lives in Western Bay, Newfoundland.
or
Not Currently Available for Direct Purchase