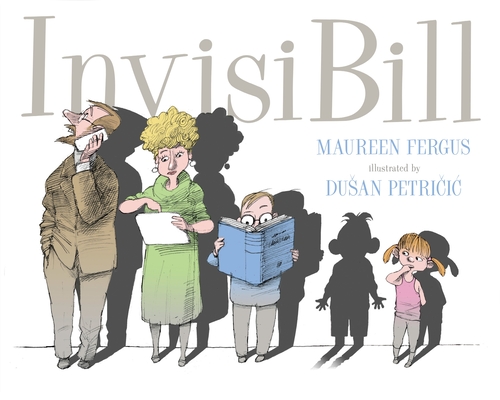 InvisiBill (Hardcover)
Tundra Books, 9781770496132, 40pp.
Publication Date: July 14, 2015
* Individual store prices may vary.
Description
Bill just wanted someone to pass him the potatoes.

     Unfortunately, no one even noticed--not his mother (a very busy woman with an important job), not his father (a very important man with a busy job), not his very intelligent older brother, not even his very athletic little sister.

     If someone had noticed, the wonderful, terrible thing that happened might never have happened.

     But it did.

     InvisiBill is the hilariously absurd, tongue-in-cheek story of an ordinary middle child who feels so overlooked by his busy, distracted family that he becomes invisible ... or InvisiBill!
About the Author
Maureen Fergus writes books for young readers of all ages. Her picture books include And What If I Won't? and The Day My Mom Came to Kindergarten. Maureen's writing has appeared in magazines such as Today's Parent, Chatelaine and Reader's Digest. Her novels include The Gypsy King trilogy, Exploits of a Reluctant (But Extremely Goodlooking) Hero, Recipe for Disaster and Ortega, which won the McNally Robinson Book for Young People Award. She lives in Winnipeg with her husband, their three kids, a fish, a dog and a hedgehog.

Dušan Petričić was born in Belgrade, Yugoslavia, and graduated from the University of Belgrade Faculty of Applied Arts and Design. His political cartoons and illustrations have regularly appeared in major newspapers and magazines in Europe and North America. As co-author and/or illustrator, he has created more than forty children's books and is the recipient of many prestigious international awards. While pursuing his own career as an artist, Dušan has taken time to teach students illustration and animation.
Praise For InvisiBill…
"InvisiBill is a brilliant portrayal of the frustrations that come with feeling young and powerless in everyday scenarios. It's less about wanting to feel necessarily special or unique, and more about the desire simply to be heard and valued as a person, regardless of age .... With shades of Judith Viorst's Alexander and the Terrible, Horrible, No Good, Very Bad Day and Robert Munsch's Purple, Green and Yellow, InvisiBill is a book equal parts silly and humane." - National Post