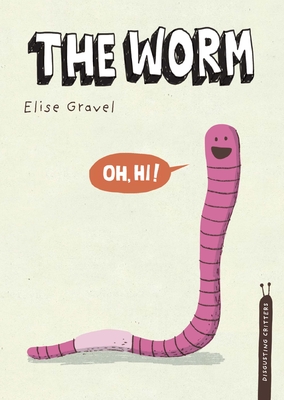 The Worm
The Disgusting Critters Series
Hardcover

* Individual store prices may vary.
Other Editions of This Title:
Paperback (7/5/2016)
Description
The second in a series of humorous books about disgusting creatures, The Worm is a look at the earthworm. It covers such topics as the worm's habitats (sometimes they live inside other animals), its anatomy (its muscle tube is slimy and gross), and its illustrious history (worms have been on earth for 120 million years). Although silly and off-the-wall, The Worm contains factual information that will both amuse and teach at the same time.
Praise For The Worm: The Disgusting Critters Series…
"The boldly colored cartoons and handwritten display fonts make this a very appealing package .... Gravel tightrope-walks the line between gross and funny." - Publishers Weekly
 

"These easy-to-read entrants feature caricature-like cartoon illustrations that appealingly depict worms and flies. The brief text imparts information and is accompanied by chatty asides from the subjects .... Readers will find these titles fun to peruse and will pick up some useful material on the subjects, along with a tasty soupçon of icky-ness." - School Library Journal


"The narrative is both informative and playful, balancing each worm-fact with a pithy commentary from the worms themselves .... The Worm seamlessly introduces interesting and important worm-facts .... and it does so in a medium that is delightful and downright charming. What's even better is that it is available in both English and French, making it a perfect candidate for any bilingual classroom or home." - The Deakin Review of Children's Literature


"Writing a science book for kids is tricky–finding the balance between pushing the facts without overplaying the gross-out is tough. Elise Gravel's The Worm pulls this off .... It's part of a series and we're hoping the other books are just as good." - The Globe & Mail

Tundra Books, 9781770496330, 32pp.
Publication Date: March 11, 2014
About the Author
ELISE GRAVEL is an award-winning author/illustrator from Quebec. She is the winner of this year's Governor General's Award for Children's Illustration in French, and is well-known in Quebec for her original, wacky picture books. She has published a number of books with US publisher Blue Apple and is currently working on a graphic novel for Roaring Brook Press. Having completed her studies in graphic design, Elise found herself quickly swept up into the glamorous world of illustration. Her old design habits drive her to work a little text here and there into her drawings and she loves to handle the design of her assignments from start to finish. She is inspired by social causes and is likes projects that can handle a good dose of eccentricity.