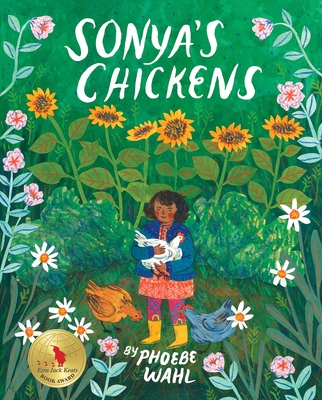 Sonya's Chickens
Hardcover

* Individual store prices may vary.
Description
Sonya raises her three chickens from the time they are tiny chicks. She feeds them, shelters them and loves them. Everywhere Sonya goes, her chicks are peeping at her heels. Under her care, the chicks grow into hens and even give Sonya a wonderful gift: an egg! One night, Sonya hears noises coming from the chicken coop and discovers that one of her hens has disappeared. Where did the hen go? What happened to her? When Sonya discovers the answers, she learns some important truths about the interconnectedness of nature and the true joys and sorrows of caring for another creature.
Praise For Sonya's Chickens…
One of School Library Journal's Ultimate Children's Literature Illustrator Gift Guide 2018

PRAISE FOR Sonya's Chickens:

"There's an old-fashioned feel to this simple story and its timeless illustrations, created with watercolor, collage, and colored pencil and reminiscent of Goodnight Moon in mood, design, and palette. . . . A reassuring story about death in the natural world, thoughtfully designed and illustrated." --Starred Review, Kirkus Reviews


"This lesson of the interdependence among all living things in nature is gently told, accompanied by colorful watercolor and collage illustrations that show the multicultural family's life on a farm. . . . The story presents the circle of life in a very comforting but realistic manner." --Starred Review, School Library Journal


"The book combines the different emotions of joy, caring, passion, compassion and sadness in a most wonderful and simple way for a young child to grasp and appreciate. The flow of the story is captivating and the style would without doubt keep a child reading the text to the end." --The Deakin Review of Children's Literature


"The brilliantly colored artwork, produced in watercolor, collage, and colored pencil, is stunning. . . . The circled arms of her family mimic the embrace of the fox with his kits, emphasizing the oneness of the natural world's food chain in our interconnected world." --Booklist
Tundra Books, 9781770497894, 32pp.
Publication Date: August 11, 2015
About the Author
Artist Phoebe Wahl's work focuses on themes of comfort, nostalgia and intimacy with nature. She grew up unschooled in Washington State, and credits her free spirited childhood in the Northwest for much of her inspiration and work ethic. She works in a variety of mediums, from watercolor and collage to fabric sculpture. Phoebe graduated from Rhode Island School of Design with a BFA in Illustration and currently lives in Bellingham, Washington.