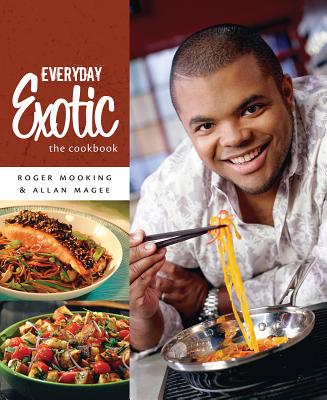 Everyday Exotic: The Cookbook (Paperback)
The Cookbook
Whitecap Books, 9781770500648, 184pp.
Publication Date: October 13, 2011
Description
Following the success of the hit television series Everyday Exotic, Chef Roger Mooking and his producer Allan Magee bring together the most delicious of his 52 inspiring episodes. Using the concept of one main exotic ingredient, Roger demystifies the ingredient through its flavour and aroma, empowering the reader to embrace them in their cooking. Mix in your standard midweek recipes and you have new classics that your entire family will love.
From Monday's standard meatloaf, to Sunday's traditional roast chicken, it's easy to learn how to embrace new taste sensations that turn those tired midweek recipes into fresh and exciting new meals. With Roger and Everyday Exotic by your side, you have the perfect go-to guide for solving that seemingly impossible question, What should I make for dinner tonight? And as Roger insists, you eat first with your eyes. So discover your own inspiration for plating each recipe in the accompanying beautiful presentations found within each vibrant and colorful photo throughout the book.
How to: make your pantry pop with flavour, aroma and color, redefine comfort food, tame an intimidating ingredient to make it your very own "Obedient Ingredient," bring the flavours of the world to your everyday and special-occasion meals, turn the tried and true into a taste sensation
About the Author
Roger Mooking and Allan Magee are the creators of Everyday Exotic. Roger was trained at the George Brown Culinary Management Program and now chairs the Professional Advisory Committee. He is also a successful musician. His debut solo album is called Soul Food. Allan has received Writers Guild of Canada Mentorship Award and Banff World Television Festival's Producer of the Year.
Advertisement