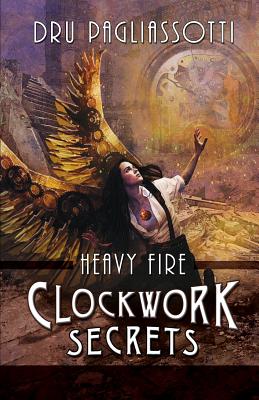 Clockwork Secrets
Heavy Fire (Clockwork Trilogy #3)
Paperback

* Individual store prices may vary.
Description
The final book in the Clockwork trilogy.
Framed for regicide and trapped on a ship crippled by enemy fire, Taya and Ondinium's diplomatic contingent seem helpless to prevent the well-engineered war their enemies have put into motion. While Alzanan and Demican armies march across Ondinium's borders, Taya and her husband fight airborne battles from the tropical islands of the Cabisi Thassalocracy to the war-ravaged mountains of Alzana. When Taya falls into her enemy's hands, she fears that nobody will be able to save Ondinium from the devastating weapon about to be plunged into its mechanically ticking heart.
EDGE Science Fiction and Fantasy Publishing,, 9781770530546, 304pp.
Publication Date: August 6, 2014
About the Author
Dru Pagliassotti is a professor of communication at California Lutheran University, where she teaches media theory and practice. She published and edited The Harrow, an online literary magazine for fantasy and horror, from 1998 to 2009. As a long-time roleplayer, Dru worked at About.Com's Guide to roleplaying games from 1998 to 2001, writing weekly columns about roleplaying and reviewing hundreds of RPG systems and supplements; she had a brief appearance in About.Com's very first commercial, dressed as a swordswoman in a black doublet and pantaloons. Her martial arts training in judo, ju-jitsu, and aikido comes in handy when writing fight scenes.