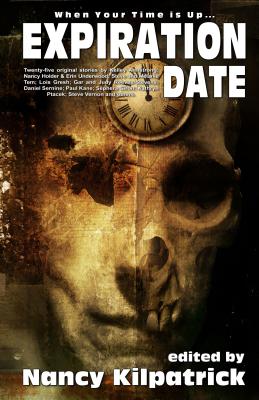 Expiration Date (Paperback)
EDGE Science Fiction and Fantasy Publishing,, 9781770530621, 274pp.
Publication Date: February 17, 2015
* Individual store prices may vary.
Description
This new anthology focuses on the what-ifs of the "end-dates" that surround us, and how they impact our lives and our world, and ourselves.
"Modern lives seem littered with expiration dates" says anthology editor Nancy Kilpatrick. "Packaging tells us when our food will go bad; when we can expect appliances to cease functioning; when contracts for the internet finish But as annoying as these small expiration dates are, they fade to nothing compared to the larger events: when a species goes extinct; when a body of water evaporates, or dies because the PH balance alters; when giant icebergs break apart and glaciers melt forever, threatening the ecosystem of this planet."
Kilpatrick reminds us "From the micro to the macro in terms of expirations, we are faced with the one termination with which we are all too familiar -- the up-close-and-personal end of life for each of us and for the ones we love. It's the personal that terrifies us most because it feels the most real."
Expiration Date features 25 original pieces of short fiction by some of the world's top Dark Fiction writers.
The stories span a range of emotions. Some will make you laugh, other will make you cry. They are grim and hopeful, sad and joyous, horrifying and comforting. Each has its own personality and will touch you in its own way.
About the Author
Award-winning author Nancy Kilpatrick has published 18 novels, over 225 short stories, 1 non-fiction book (The Goth Bible) and has edited 13 anthologies. She writes mainly dark fantasy, horror, mysteries and erotica, and is currently working on two new novels. She co-edited with David Morrell the horror/dark fantasy anthology Tesseracts Thirteen. She is the editor of Evolve: Vampire Stories of the New Undead, Evolve Two: Vampire Stories of the Future Undead, and Danse Macabre: Close Encounters with the Reaper. Nancy won the Arthur Ellis Award for best mystery story, has been a Bram Stoker finalist three times and a finalist for the Aurora Award five times. Danse Macabre won the Best Anthology of the Year from the Paris Book Festival, and Nancy's newest short fiction collection Vampyric Variations won silver in the horror category of the ForeWord Reviewers Book of the Year Awards.