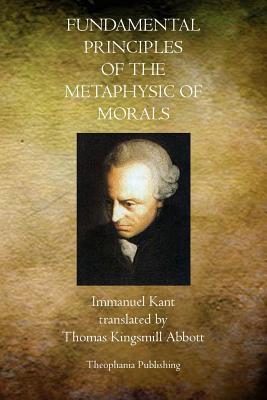 Fundamental Principles of the Metaphysic of Morals
Paperback

* Individual store prices may vary.
Other Editions of This Title:
Digital Audiobook (4/25/2011)
Paperback (5/14/2009)
Paperback (10/31/2008)
Paperback, Large Print (11/2/2006)
Paperback (6/12/2015)
Paperback (3/1/1987)
Paperback (7/24/2014)
Paperback (3/22/2016)
Paperback (6/18/2010)
Paperback (12/2/2009)
Paperback (3/13/2008)
Paperback (7/11/2011)
Paperback (1/15/1785)
Hardcover (6/1/1785)
Paperback (2/18/2008)
Paperback (3/17/2014)
Paperback (5/8/2008)
Description
Thank you for checking out this book by Theophania Publishing. We appreciate your business and look forward to serving you soon. We have thousands of titles available, and we invite you to search for us by name, contact us via our website, or download our most recent catalogues. Ancient Greek philosophy was divided into three sciences: physics, ethics, and logic. This division is perfectly suitable to the nature of the thing; and the only improvement that can be made in it is to add the principle on which it is based, so that we may both satisfy ourselves of its completeness, and also be able to determine correctly the necessary subdivisions. All rational knowledge is either material or formal: the former considers some object, the latter is concerned only with the form of the understanding and of the reason itself, and with the universal laws of thought in general without distinction of its objects. Formal philosophy is called logic. Material philosophy, however, has to do with determinate objects and the laws to which they are subject, is again twofold; for these laws are either laws of nature or of freedom. The science of the former is physics, that of the latter, ethics; they are also called natural philosophy and moral philosophy respectively.
Theophania Publishing, 9781770830462, 84pp.
Publication Date: May 2, 2011