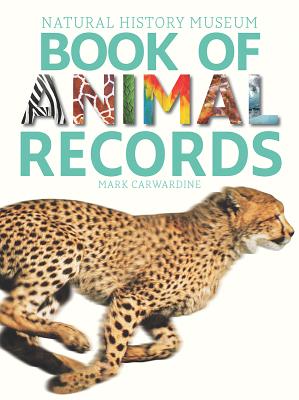 Natural History Museum Book of Animal Records
Paperback

* Individual store prices may vary.
Description
Here are the achievers and the unique from the animal world: mammals, birds, reptiles, amphibians, fishes and invertebrates. These are not only familiar records like highest, fastest, largest, these are the unusual, such as slowest growth (the deep sea clam), most pecks in a day (black woodpecker), noisiest bird (booming Kakapo) and worst climber (western fence lizards fall out of their oak tree homes about 12,000 times a year).
There are myth-busters -- centipedes have the most legs, not millipedes, and fascinating stories -- two "dead" specimens of desert snail were glued onto a museum display tablet only to come out of hibernation four years later. There is a lot of the bizarre (horned lizards from western North America can squirt blood from their eyes) and the ingenious (humpback whales use bubbles as fishing nets).
The mammals, amphibians, reptiles and invertebrates are organized by animal order, family and species. Birds are organized by category. Many animals are described for more than one record e.g., camels and llamas are described for the altitude at which they live and for which is the largest and the smallest. Exceptionality is within each category rather than the entire Animal Kingdom, for example, the largest bat is the flying fox bat but the largest of all land mammals is the elephant and the largest of all animals is the blue whale.
Natural History Museum Book of Animal Records includes almost 900 records that show the diversity and wonder of the animal kingdom:
Mammals: 381 records
Birds: 133 records
Reptiles: 101 records
Amphibians: 33 records
Fish: 38 records
Invertebrates: 191 records.
Science is revealing unknown animal behaviors and finding new species. Behavioral research is adding a new dimension to our knowledge of what animals do, where, why and how. Natural History Museum Book of Animal Records is a fascinating sampling of these amazing discoveries.
Firefly Books, 9781770852693, 256pp.
Publication Date: August 22, 2013
About the Author
Zoologist Mark Carwardine is an award-winning writer, widely published photographer and TV and radio presenter.
or
Not Currently Available for Direct Purchase